The Evel Knievel Movie Might Be More Outrageous Than We Thought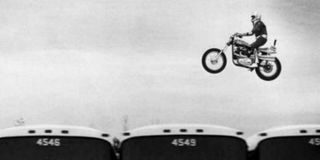 Over the years there's been many murmurs and rumors about a potential Evel Knievel film. While there's been a passing interest in the potential biopic, most of us have been waiting to learn which individuals will both write and direct it before getting too excited. Well prepare to become hysterical. Because Paramount Pictures has hired The Departed's William Monahan to write, and there are hopes that this will lead him to re-team with Martin Scorsese on the film.
However, before Evel Knievel immediately becomes your most anticipated film in development, we're still a long way off from William Monahan and Martin Scorsese actually reuniting for the film. While both Monahan and Scorsese have contracts with Paramount, Scorsese has allegedly made it clear that he is waiting to see how the script turns out before proceeding.
According to Deadline, William Monahan, who, like Scorsese, walked away with an Oscar for his work on The Departed, has already signed up to write a film about the iconic daredevil who took great joy in leaping over things on his motorbike. Monahan is going to adapt Sheldon Saltman's Evel Knievel On Tour for the big-screen, a book that Paramount Pictures acquired with hopes of turning into in a film.
There's one reason why Evel Knievel die-hards might have a bit of an issue with this book being used as a resource though, since Evel Knievel himself hated the book so much that he flew all the way to California, made his way onto the 20th Century Fox lot, and then beat Sheldon Saltman with a baseball bat. Oh yeah, he also did this while he had two broken arms, too.
According to Fact Fiend.com, Evel Knievel pursued and attacked Sheldon Saltman in this manner after Evil Knievel On Tour alleged that the daredevil had been physically abusive to several people over the years. In fact, the book notes that Knievel was linked to around half a dozen serious assault charges, none of which could be pinned down on Knievel because he had hired people to commit them on his behalf.
Evel Knievel didn't take to these allegations kindly, especially since Saltman was actually Knievel's ex-manager who had spent several years working very closely with him during his tours. Knievel was also apoplectic at the number of factual inaccuracies and embarrassing details that Saltman - who worked at Fox as a producer but also promoted Knievel's failed jump over Snake River - had written about.
However, it's hard to feel sorry for someone who, despite having both of his own broken arms in casts, set about Saltman with a baseball bat alongside an associate. In the end the bat broke Saltman's arms, and Knievel was rightfully arrested. Several eyewitnesses pointed out that Knievel had shouted at Saltman, "I'm going to kill you," while aiming for his head. Knievel insisted that, even with his own injuries, he meticulously aimed for Saltman's arms, and hit his targets exactly. Knievel got 6 months in jail, and Saltman later successfully sued him for $13 million. However Knievel never paid Saltman his money, and in fact died before he ever gave him a cent.
All in all it sounds like pure Marty Scorsese fodder. Especially if Leonardo DiCaprio signs up to portray Evel. Although I think we can all admit that it's the one role that Matthew McConaughey, who hosted a special on the man ten years ago, was born to play.
Your Daily Blend of Entertainment News
Thank you for signing up to CinemaBlend. You will receive a verification email shortly.
There was a problem. Please refresh the page and try again.