Johnny Knoxville Has Big, Dangerous Plans For His Next Movie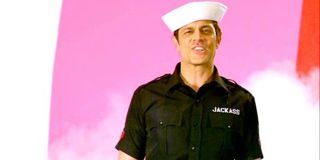 Johnny Knoxville's entire career has been built upon the fact that he likes to hurt himself. A lot. And the Jackass star isn't planning on stopping that anytime soon too. That's because he has announced that his upcoming untitled film will see him doing just that once again. But only on a larger scale.
While at the Sundance Film Festival, Johnny Knoxville spoke to MTV News about his upcoming film, and it certainly sounds like an ambitious project. Knoxville explained that it will incorporate the high-octane stunts of Jackass with a narrative that's akin to Bad Grandpa, except that it has less focus on stunts and more of a focus on pranks. Knoxville admitted that filming for the stunt is going to cause a bit of pain - which is hardly a surprise given that Johnny Knoxville has been inflicting damage on himself on camera ever since Jackass was first broadcast back in 2000. Knoxville told the network,
Currently very little is known about Johnny Knoxville's upcoming project. In fact, he has admitted that the film is still very much in its infancy, noting that plans are "a little bit preliminary" for now. However. he still has a rough idea of what he expects it to consist of. "It would be me, acting and doing the stunts," Knoxville explained. "It's going to add up. I might have to shoot that baby in sequence."
Knoxville admitted that the film probably won't see him donning the hair-and-makeup that he plastered across his face while shooting Bad Grandpa, which is a relief. Even though Bad Grandpa was an enjoyable slice of silliness with plenty of heart, the fact that Johnny Knoxville was covered in prosthetics for the film meant that his presence was diluted. This meant that we weren't able to see Johnny Knoxville's personality truly shine out like it did in Jackass, Jackass Number 2 or Jackass 3D. Instead, he was just playing a character. Thus, Bad Grandpa didn't possess laugh out loud scenes that were packed with truly human moments like this one:
Knoxville was at the Sundance Film Festival to promote Being Evel, a new documentary that takes an intimate look at the legendary daredevil and cyclist, Evel Knievel. And if they ever decide to make a biopic of the icon, then, and I think we can all agree on this, Johnny Knoxville would be the perfect choice to play the lead role.
Your Daily Blend of Entertainment News