NBC's Hannibal Lecter To Be Played By Cannes Best Actor And Casino Royale Villain Mads Mikkelsen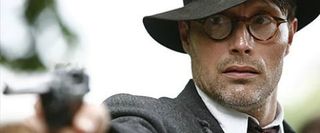 NBC's Hannibal continues to add to its wealth of talent, making the small screen adaptation one of the most anticipated new series of the coming season. Yes, a 'reboot' that actually sounds superb. From Gaumont International Television, this new interpretation of Thomas Harris' world and his most iconic character, has done a phenomenal job in putting together a group of creatives likely to deliver a deliciously macabre version of the events leading up to Red Dragon. But as great as the decisions have been, the most crucial part of the project had yet to be announced, until today.
So, who's the man slated to play the part many call the number one villain in movie history? Mads Mikkelsen. TVLine reports that the Danish actor, probably most famous for his role as the Bond villain who cried blood in Casino Royale, has just been cast as Dr. Hannibal Lecter opposite Hugh Dancy's Will Graham. Mikkelson is really an inspired choice for the role bringing the sophistication needed while also, even more interestingly, imposing a physical threat with the actor famous for playing some tough characters. I like that this Hannibal might be as tough as he is smart, making him an even greater ally turned adversary.
Of course, this is obviously all speculation as we've yet to get a taste of how the recent Best Actor winner at Cannes (for his work in Thomas Vinterberg's Jagten) and possible Thor 2 villain, will actually play the iconic part. I'm certainly looking forward to finding out. Hannibal was written by Bryan Fuller who previously created the criminally overlooked and wonderfully uncanny Pushing Daisies and is also busy developing The Munsters reimagining Mockingbird Lane. You can see how his off-kilter sensibilities will perfectly lend themselves to writing the intensely sharp and scary, yet oddly tongue in cheek, Dr. Hannibal Lecter. The pilot will be directed by Hard Candy helmer David Slade and the series (13 episodes) is slated for a midseason premiere.
Your Daily Blend of Entertainment News
Thank you for signing up to CinemaBlend. You will receive a verification email shortly.
There was a problem. Please refresh the page and try again.