Ex Machina's Alex Garland Eyes A Tremendous Cast For His Next Sci-Fi Thriller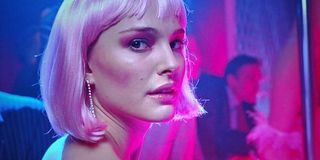 With the release of Ex Machina, Alex Garland suddenly found himself propelled from not only being one of the most sought after writers in Hollywood, but to one of the most pined for directors too. Garland has been quick to take advantage of his popularity though, and plans are already in motion for his next film, Annihilation. In fact, he's assembled quite a sensational cast for his sophomore directorial effort.
Alex Garland is adapting Annihilation, from Jeff VanderMeer's novel of the same name. The story follows a group of women that are sent out into a section known as Area X, which is abandoned and cut off from the rest of humanity. This film sounds more than right up Garland's alley, and if he can create a film that replicates the same moody, mysterious tone of Ex Machina, then it should be sensational. In order to help him realize his vision, he's looking to cast three of the most talented actresses in Hollywood. Who are they? Well take a look below.
The Wrap have reported that Tessa Thompson is the latest name to be approached to star in Annihilation, and, arguably, she's the most impressive choice too. Fresh from her impressive turns in Veronica Mars, For Colored Girls, Selma, and Dear White People, the 32-year-old really proved her mettle with her stunning work in Creed, where she somehow managed to steal a boxing film away from its fight scenes.
The reason why I said that Tessa Thompson is arguably the most impressive casting choice for Annihilation is that Natalie Portman might also feature. And, well, Natalie Portman is Natalie Portman. What makes her potential appearance even more exciting is that we've not seen too much of Portman over the last few years, with her turns in Thor and Thor: The Dark World being her last since 2011. That's too long a gap, and it's being rectified over the next few months with Knight Of Cups, Jane Got A Gun, Planetarium, and an untitled Terrence Malick film - all due out in 2016.
Gina Rodriguez
Most movie fans probably won't know too much about Gina Rodriguez, but TV nuts will recognize her from the show that they know they should hate but can't help but love, Jane The Virgin. Rodriguez stars as the celibate titular character, and in the process she has charmed viewers with her strong, funny, emotional, and all round enchanting performances. Because of this stellar work, she's making the step-up to the big-screen, and she will seen in next month's Sticky Notes, as well as the Peter Berg directed Deepwater Horizon, due out in September.
That's a pretty great leading triumvirate of actresses, especially when the source material sounds like it should get the very best from each of them too. You see, while in Annihilation's Area X, the complete team of four – which consists of a biologist, anthropologist, psychologist, and surveyor – have to complete a number of dangerous missions. They are the 12th team to have been sent there, and in the past aggressive cancers, mental trauma, suicides and disappearances have blighted expeditions. Basically it sounds like The Martian meets The Crazies.
With Alex Garland writing and directing, and now Tessa Thompson, Natalie Portman, and Gina Rodriguez starring, Annihilation sounds like the beginnings of a very promising end - especially if the other two books in the trilogy receive the same treatment. The film should shoot this year, before being released at some point in 2017, and we're more than ready to face it down!
Your Daily Blend of Entertainment News