Exclusive Interview: Gentlemen Broncos Director Jared Hess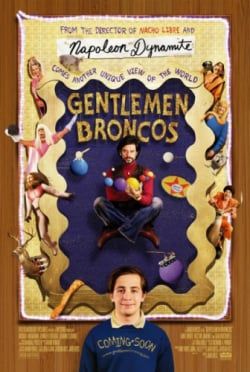 Jared Hess, like it or not, will on some level always be the guy who directed Napoleon Dynamite. Not only was that movie such an unexpected hit, launching years worth of catchphrases and Halloween costumes, but it made such good use of the bizarre rural Utah landscape than any movie filmed there again would automatically be compared to Napoleon's world.
But Hess wasn't too worried about that as he went to make Gentlemen Broncos, set in the same mountainous world full of Mom jeans and arts and crafts but with a distinctive sci-fi spin. Based freely on his own chlidhood, as he admits, Gentlemen Broncos stars Michael Angarano as Benjamin, a geeky 15-year-old who brings his prized sci-fi novel Yeast Lords to a weekend writer's retreat, only to find it completely stolen by his idol, sci-fi master Ronald Chevalier (Jemaine Clement).
While much of the film takes place in Benjamin's life, living with his nightgown designer mom (Jennifer Coolidge) and making a low-budget adaptation of Yeast Lords with two friends, some of the best parts of the movie are set within the world of Yeast Lords itself, starring Sam Rockwell as space explorer Bronco, and also later as Chevalier's butchered version of Bronco, Brutus (it all makes sense if you see it, I promise). I talked to Hess about working sci-fi into his unique world, casting Sam Rockwell and helping him create the two characters, and creating a weird world while still hanging on to real people. Gentlemen Broncos opens tomorrow.
Your Daily Blend of Entertainment News
Staff Writer at CinemaBlend