Exclusive: Richard Schiff Discusses Man Of Steel's Navy SEAL Extras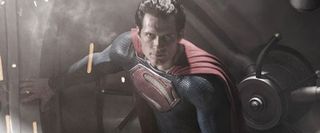 Sure it's all about The Avengers right now, but come next year, Superman will be back in the spotlight when Man of Steel hits theaters. I'm not going to pretend to know all the nitty gritty details of the Superman realm, but I can deduce that General Zod's (Michael Shannon) involvement does mean there's a military component to the film and, while discussing his Tribeca Film Festival release, Knife Fight, Man of Steel's Dr. Emil Hamilton, Richard Schiff, took the time to talk about shooting at Edwards Air Force Base.
While on location, Schiff was in impressive company. "The real Navy SEALs and a bunch of guys played the extras." He added, "They're this impressive bunch of men and women." Of director Zack Snyder, Schiff reminisced, "He can throw a good football. We had a nice little catch at Edwards Air Force Base in a big hangar."
And apparently Snyder is the kind of guy who likes to bring the fun and games home with him, too. Schiff explained, "It's like going over to a kid's house who's got all the toys." Schiff's Knife Fight co-star and the star of Snyder's Sucker Punch, Jamie Chung, agreed as Schiff continued, "He's got all the toys and he's happy to share it with you and he's happy to have fun.'
Now the big question is, while it might have been fun making the movie and hanging out with Snyder, what'll we think come June 14, 2013? Schiff joked, "I expect it to make a lot of money for those people that created it." He added, "I expect that to be a pretty fun run at Superman."
Catch the clip of Schiff discussing Man of Steel below and be sure to keep an eye out for the full interview with Schiff and Chung on Knife Fight coming soon.
Your Daily Blend of Entertainment News
Staff Writer for CinemaBlend.
Your Daily Blend of Entertainment News
Thank you for signing up to CinemaBlend. You will receive a verification email shortly.
There was a problem. Please refresh the page and try again.