Exclusive: Tom Hanks Confirmed For Da Vinci Code Sequel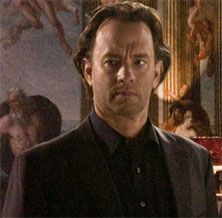 It looks like Sony's Da Vinci Code sequel Angels & Demons is now moving ahead. According to one of our more reliable sources close to the project, Tom Hanks has been officially locked up to reprise his role as Dr. Robert Langdon in the followup.
Hanks has been in talks to do the film for awhile now, and apparently it took a really big paycheck to get him. Our scooper says it's the "biggest salary ever paid to an actor in the history of Hollywood." I guess it doesn't get much bigger than that does it? But The Da Vinci Code was a huge success for Sony Pictures, particularly internationally. If they have to pay him more than $50 million to get it back, it's probably worth it. Nobody wants to see a Da Vinci Code sequel with replacement actors. Sorry Jeff Daniels, you won't be getting a phone call.
Of course since our source for this story must remain anonymous, regard it simply as a solid rumor until Sony Pictures comes out with an official confirmation. But it looks like filming on Angels & Demons should start in July, with Hanks and his Euro-hair joining the already rumored supermodel Gisele Bundchen on the set. The script is by Akiva Goldsman and last we heard Ron Howard is supposed to be back as director.
Angels & Demons is based on another book by Dan Brown. This movie picks up after The Da Vinci Code with Dr. Robert Langdon on the trail of the Illuminati and engaged in a frantic quest to find some sort of uber-powerful energy source. The trailer leads him all around the Vatican, where he'll no doubt find something that will piss off the Pope. He doesn't seem to have a sense of humor about these things.
Your Daily Blend of Entertainment News