Extended Fantastic Four Preview Comes With Bonus Deadpool Jokes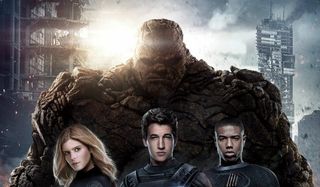 Fantastic Four hits theaters this Friday, which means it's time for one last preview. Twentieth Century Fox released an extended look at their latest superhero film that runs just under four minutes. Watch the brand-new footage below, and be sure to stay all the way through till the end for a special message from Deadpool!
The latest Fantastic Four trailer aired Monday night during American Ninja Warrior, and it gives us an extra incentive to see the movie this weekend. After Conan O'Brien debuts the red-band Deadpool trailer on his late-night talk show tonight, the footage will screen in front of Marvel's first family in theaters. That's all according to a special appearance in the last few moments of this sneak peek from Ryan Reynolds. "For an erection lasting longer than four hours…pat yourself on the back," he says while suited up as the merc with the mouth.
Elsewhere, the Fantastic Four trailer features the most footage we've ever seen from this superhero flick. Miles Teller plays Reed Richards/Mr. Fantastic, Kate Mara plays Sue Storm/Invisible Woman, Michael B. Jordan plays Johnny Storm/Human Torch, Jamie Bell plays Ben Grimm/The Thing, and Toby Kebbell plays Victor von Doom/Dr. Doom. Among the new looks we see more from a young Reed making his first teleportation device before jumping to his older self heading to the Baxter building. We see the five characters undergo inter-dimensional travel, a trip that forever alters their genetic make-up and grants them their powers. We also see hints of Doom's plan, which seems to involve a massive vortex sucking up the world.
Fantastic Four has been a mystery. With all the skepticism hitting the Internet, it seems as though some fans want this movie to fail. Then you factor in the fact that the film hasn't been screened for the majority of movie critics, and the four main cast members haven't even seen the final version. However, a small group of people have been tweeting positive commentary out of an early screening, hinting that the haters might have jumped the gun. Simon Kinberg, the film's writer-producer, also spoke out about the matter. "It's not a disaster. It's a good movie," he told Entertainment Weekly in an interview. Based on this new sneak peek alone, we're inclined to agree with that statement.
While Fantastic Four will drop on August 7 (that's only a couple days away), Fox already scheduled a sequel to drop on June 9, 2017. X-Men: Apocalypse director Bryan Singer recently confirmed rumors that there have discussions about crossing over the worlds of the X-Men and Fantastic Four, which means these four unique superheroes could have much larger implications for the brand.