The Fan-Favorite X-Men Mutant Days Of Future Past Was Planning To Use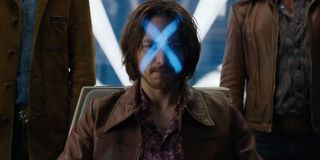 Bryan Singer's X-Men Days Of Future Past was packed to the brim with superheroes. In fact, it was so chock full that even the mere mention of another character would have caused the blockbuster to topple over. That being said, X-Men: Days Of Future Past's writer and producer Simon Kinberg evidently discussed including a few more, including Cable.
Kinberg made this admission during his recent chat with Collider, explaining that Bryan Singer and he were very tempted to include the beloved time-traveler in the movie. The character is largely associated with both the X-Force and X-Men, and is a firm fan-favorite in the comics. However, even though they were very, very tempted to have Cable join the mix, they decided he was simply too big to feature, and prosper. Asked about the potential of us seeing Cable in Deadpool 2, though, Simon Kinberg said,
I think it's fair to say that Simon Kinberg and everyone involved with X-Men: Days Of Future Past were right to exclude Cable from the film – especially if that means the door is now open for him to team up with the Merc With The Mouth.
For those of you that don't know, even though he hasn't appeared on the big-screen yet, Cable has quite a storied history with X-Men. He is the son of Scott Summers/Cyclops, who has gallantly been played by James Marsden throughout the movie franchise and will be played by Tye Sheridan in X-Men: Apocalypse. However, he was born with a technovirus, and in order to try and find a cure for this disease, Cable was sent into the future. Want to have a gander at the impressive specimen? Take a look below.
His ability to travel through time is probably where he would have fit quite nicely into X-Men: Days Of Future Past. Would Cable have traveled back in time with Wolverine? It's a possibility. Heck, maybe Cable would have even been the lead instead of Hugh Jackman's metal-clawed mutant! Now we'll never know.
Instead, we've just got to look forward to Cable featuring prominently with Deadpool. It's previously been heavily teased that the character will star in the proposed sequel, with director Tim Miller admitting that fans will "run him out of town" if Cable wasn't included in the potential follow-up. However, with Fox also working on The New Mutants, which shares the name with the comic book series in which Cable debuted, there's even a chance that Cable could rear his ugly head in that, instead. Either way, there are plenty of options for Cable to appear on the big screen very soon, and that now looks more and more like a formality.
Right now, the idea of a Deadpool 2 is merely a hope – but things honestly look very good for the movie. Anticipation for the R-rated superhero flick is currently at a fever pitch. Then again, 20th Century Fox had massive plans for Fantastic Four franchise, and that has gone… well, that has gone as badly as any plans in the history of celluloid.
Sure, Kinberg failed to ignite Fantastic Four with his writing, but as the writer and producer on X-Men: Apocalypse, and producer on Gambit and Deadpool, he's got plenty of time to redeem himself over the next year.
Your Daily Blend of Entertainment News