Fans Vote Forrest Gump Greatest Oscar Best Picture Winner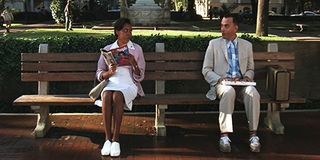 How does history work? In the technology age, it feels like it doesn't work at all anymore. Nothing is remembered, as people are off to capture the next memory, the next idea. When it comes to film, we often find that it's either a classic out of the box, or a massive flop. It makes sense that people would want to second guess the status of certain best Picture Oscar winners like Robert Zemeckis' Forrest Gump, which is due for a re-evaluation. But we've already heard the verdict, and no one is changing their minds.
It's that spirit that seems to have fueled ABC News' bracket challenge to determine the best Oscar film of the past 64 years (which, in the eyes of many with limited perspectives, is essentially picking the best movie of all-time). The voters have spoken and the victor is Forrest Gump, which… wait, what?
Are you serious?
In the end, the Tom Hanks comedy/drama/accident garnered 54.8 percent of the votes against it's final bracket competitor, (OH COME ON) The Godfather. Twenty years after the film became an Oscar favorite and box office smash, its still popular enough with general audiences, moreso than (deep breath), Lawrence of Arabia, The French Connection, Annie Hall, Unforgiven, No Country For Old Men… hell, you'd even expect Titanic to be a major player, given that it was, y'know, once the biggest film of all time. The Robert Zemeckis film defeated a final four that included Ben Hur and (bought and paid for?) The Lord of The Rings: Return Of The King.
Is there that much latent affection for the film where Hanks plays a mentally-disabled go-along who walks through history like he were on a Disney ride? Do people really look at the Clinton-era optimism and political simplicity and Sally Field hambone work and think, yes, the Academy got it right? 529,000 votes were cast during the process; did any of these people stop to think that Forrest Gump maybe wasn't even the best nominee that year, pitted against The Shawshank Redemption, Quiz Show and, uh, the most influential movie of the last twenty years, Pulp Fiction?
The various brackets essentially saw film fans make the easiest choice they could make. The question is, are there legions of Gump fans just sitting at their computers, fervently pushing reload to tally as many votes to support this film? Is there a secret cabal of internet voters who worship the film and are fighting defiantly against the backlash? Have you heard anything other than your mother speak kindly of the film since its release as anything other than white noise on TV? Do these people also kind of wish The Help won Best Picture? Haven't we established that they got it wrong? Does Forrest Gump essentially win by being a "feel-good" portrait of an unquestioning fool who does what he's told and finds success?
There's a comments section below, folks. Let us know what should have won this bracket challenge.
Your Daily Blend of Entertainment News