The Fear Monger: The Stand, The Maniac Cop Remake And Krampus Sign Big Names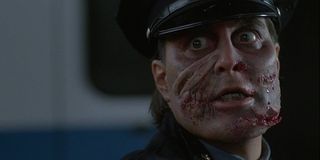 Good day, exhumers of all things scratching suspiciously into the night. It's time for another look at the past week of horror news. This is where I'd put in a joke about how seeing Zak Efron shirtless in Neighbors is horrifying, only that film has been critically lauded and is currently tearing up the box office. So I guess I'll just whistle like the child-murdering villain in M and move on to the week's bite-sized news items.
Upright Citizens Brigade founder and Veep star Matt Walsh will make the rare jump to dark thrillers for Blumhouse Productions' 6 Miranda Drive, where he'll play a good old boy on a vacation gone wrong with Kevin Bacon and Radha Mitchell. Possibly the most controversial films ever made, Ruggero Deodato's brutal-as-fuck 1980 horror Cannibal Holocaust is coming to Blu-ray in a jam-packed 3-disc set that you don't have to kill any animals to pre-order here. And even though this isn't straight movie news, it's still worth mentioning and drooling over the fact that the stellar collectibles company NECA is bringing to Comic Con the super snazzy 8-inch figure of Super Freddy, a limited edition take on the comic book nightmares within A Nightmare on Elm Street Part 5: The Dream Child.
And now for the week that was.
Nat Wolff Reteams with Director Josh Boone for The Stand
The long-gestating big screen version of Stephen King's epic novel The Stand finally got its feet under it again a few months ago when The Fault in Our Stars director Josh Boone signed on to turn the massive good vs. evil story into a single film (that's a move we like to call the Anti-Lionsgate). Boone has at last brought in his first cast member, and it's Fault in Our Stars actor Nat Wolff, making this the third film that the pair will work on together.
I don't think anyone needs to worry about Wolff stepping out as the evil Randall Flagg or putting on a wig to play Mother Abigail. The Hollywood Reporter says Boone is writing a part specifically for Wolff, so it's unclear if he's talking about someone who actually appears in The Stand itself, or if he's inventing someone new with Wolff in mind. There are a plethora of characters in this tale of a population-destroying virus, so creating one isn't necessary, but it's possible Wolff will serve as an amalgam of several different people. He's getting positive reviews for his role in Gia Coppola's upcoming drama Palo Alto, so I'll just remain optimistic that he is the first of many talented actors to fight the good fight.
Spanish Thriller Witching And Bitching Crosses Witchcraft With Caper Comedy
Above is the U.S. trailer for Spanish filmmaker Alex de La Iglesia's witchy crime story Witching & Bitching, and though it's similar to the international trailer that the film has used in promotion for a while now, we've never covered it on Cinema Blend before, so it's fair game. You might know de la Iglesia from his 1995 cult hit The Day of the Beast, or from his English-language mystery The Oxford Murders, with Elijah Wood and John Hurt. Witching & Bitching, as you might be able to tell by the trailer's use of hardcore band Refused, is a combination of madness, mythology and abject badassery.
A group of thieves, dressed in the most fabulous bank-robbing costumes imaginable, experience a heist gone wrong and attempt to quietly flee the country to let the hubbub die down (one of the thieves also brings his son along as to not give up custody rights to his ex-wife. You know that will go well for him) Stopping at a small tavern, the guys get enveloped into a world of ritualistic mischief, and they end up having to escape not only a vengeful witch, but a couple of dum-dum cops and that previously mentioned ex-wife. It looks like pure madness condensed to feature-length, and I'll never ever forget the sight of metallic Jesus blasting a shotgun. Witching & Bewitching hits VOD (and select theaters) on June 13th.
Maniac Cop Remake Finds Writer in Captain America: Winter Solder's Ed Brubaker
A movie notable for its insanely enjoyable ludicrousness should by definition be impossible to remake, but Maniac Cop is apparently getting an update from production/distribution company Wild Bunch, who will shop the project around Cannes later this month. The last we'd heard about the project was back in 2012 when Drive director Nicolas Winding Refn signed on to produce what was then called a prequel. And while the reboot route is unfortunate, there is a huge silver lining in that comics mastermind and Captain America: The Winter Soldier story creator Ed Brubaker is taking on scripting duties for the flick.
Superhero fans cheer on Brubaker for his consistently amazing and award-winning work on Captain America and Daredevil comics among others. But I'm personally a bigger fan of his crime series, like Criminal, Scene of the Crime and Gotham Central - the best non-Dark Knight Batman fiction I'll ever know. It's so strange that he'll be the guy reforming William Lustig's 1980 film about a maliciously shadowy cop who keeps murdering people, and the unlucky officer who gets blamed for the crimes. The director will be announced at Cannes, where we'll hopefully also hear that Bruce Campbell will be coming back. Check out the murderously campy trailer below and read a Brubaker comic before you go to bed tonight.
Trick 'r Treat Director Michael Dougherty to Helm Krampus for Legendary
'Tis the season to be jolly about soundalike horror comedies, fa-la-la-la…Some months after Kevin Smith announced he and his SModCo cohorts were making a Krampus-themed anthology film, now called The Anti-Claus, the tentpole assembly line that is Legendary Pictures has signed Trick 'r Treat director Michael Dougherty to direct the plainly titled Krampus. Plot details from Deadline are nil, and they just say it's about the titular demon, who punishes the most heinous children at Christmastime.
This will probably be Dougherty's sophomore feature, assuming he still hasn't started work on the sequel to his wicked good anthology Trick 'r Treat. Though Dougherty is an established screenwriter, working with Bryan Singer on both X2 and the upcoming X-Men: Apocalypse, the Krampus screenplay has already been written by newcomer Zach Shields and Todd Casey, whose resume is filled with episodes of Batman: The Brave and the Bold and the Thundercats update. I'm intrigued by anything that the Krampus and Dougherty have going on, so this is going in the "I hope this doesn't get made only to be shelved for three years and then released quietly on VOD" folder.
TMNT and Divergent Writer Heads Into an Author's Nightmares for Ink and Bone
With one exception, the foundation for screenwriter Evan Daugherty's career was based on adapting characters that others have created. Having gotten his start co-writing Rupert Sanders' Snow White and the Huntsman, Daugherty moved on to pen Neil Burger's Divergent and Jonathan Liebesman's upcoming Teenage Mutant Ninja Turtles reboot - a film for which the script is everyone's least maniacal concern. But he's headed into completely original (if somewhat derivative) territory with his directorial debut, the thriller Ink and Bone.
Ink and Bone, according to Deadline, centers on a female book editor who visits a horror novelist client in an effort to get him to speed up his latest novel. Once there, she discovers that the author is being held captive by the monstrous creations from his novels (it's a gimmick Stephen King has done a few times, not to mention other less prominent authors). Dimension bought the script as a spec from Zak Olkewicz, but Daugherty will be giving it a pass before production kicks into gear. Though he's never directed a full feature before, Daugherty recently put together four pretty awesome short films under the group heading The Four Players that offer a modern take on the Super Mario Bros.characters. Since Luigi is the best, check out his short below.
Your Daily Blend of Entertainment News
Assistant Managing Editor
Nick is a Cajun Country native, and is often asked why he doesn't sound like that's the case. His love for his wife and daughters is almost equaled by his love of gasp-for-breath laughter and gasp-for-breath horror. A lifetime spent in the vicinity of a television screen led to his current dream job, as well as his knowledge of too many TV themes and ad jingles.