A Female Ocean's Eleven Spinoff May Happen, Get The Details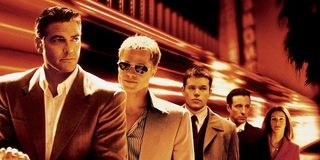 It's starting to look like Ghostbusters won't be the only property that gets the gender-swap treatment. A new report making the rounds indicates that Sandra Bullock may front an all-female Ocean's Eleven spinoff. She did take over George Clooney's role in Our Brand is Crisis, now she's stepping in and taking over one of his entire franchises.
Sources close to the project told The Playlist that a new Ocean's movie is in fact in the works. Though there aren't many specific details to be had at the present time, Bullock will reportedly lead what is sure to be an ensemble cast, The Hunger Games director Gary Ross will helm the picture, and Olivia Milch (Little Women) will handle the writing duties and has even already turned in a draft of the script. And don't worry that Clooney might be cut out of the loop, he'll serve as a producer.
This idea was reportedly mentioned in some of the leaked Sony emails last year, and the idea of another female-driven ensemble reboot may have even got then-studio-head Amy Pascal to light a fire under Ghostbusters. According to the sources, however, the project really got moving when Clooney, original Ocean's mastermind Steven Soderbergh, and legendary producer Jerry Weintraub, who produced the 2001 film—itself a remake—got together last year.
One thing that's not clear at the moment is how exactly this fits into the larger Ocean's universe. Whether this is a remake, sequel, reboot, spinoff, of some other type of reimagining remains to be seen, though there is reportedly a chance that George Clooney could dust of his heisting pants and cameo as the smooth-talking Danny Ocean.
This does, of course, fit in with the present trend in Hollywood. We've got a team of female Ghostbusters on the way in Paul Feig's reboot next year; Ronda Rousey is playing the character originally inhabited by Patrick Swayze in a Road House remake; Tilda Swinton's character in Doctor Strange, the Ancient One, is traditionally portrayed as a man; and Gwendoline Christie's Captain Phasma in Star Wars: The Force Awakens was originally written for a man. And then there's Bullock taking over a role originally earmarked for Clooney.
Though there were rumblings that this could happen, many assumed the project hit a speed bump last summer with the passing of Jerry Weintraub. All of the primary players were at his memorial, and apparently this is still in the works. Weintraub, Clooney, and Soderbergh got together around the Ocean's trilogy, Ross has been friend of Soderbergh for some time, and Clooney and Bullock have been close since they took that trip to space together in Gravity.
There is no word on when this new, female-led Ocean's Eleven reboot will get going, but it is expected to be Gary Ross' next movie. His The Free State of Jones, starring Matthew McConaughey, was recently given a May 13, 2016 release date, so it's possible we could see more movement on this soon.
Your Daily Blend of Entertainment News
Thank you for signing up to CinemaBlend. You will receive a verification email shortly.
There was a problem. Please refresh the page and try again.