Will Ferrell's 10 Best Co-Stars, Ranked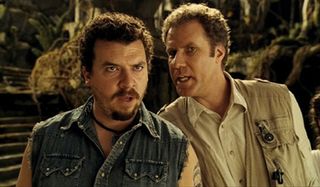 In his long history of comedy filmmaking, Will Ferrell has almost always found himself surrounded by cast members equally adept to going for the funny stuff. Maybe it's something left over from his Saturday Night Live days, or maybe he's just that easy to work with, but either way the chances are good that Ferrell and his co-star are going to have at least one gut-busting scene together. With Josh Gad signing on as the Roger Ebert to Ferrell's Russ Meyer in Russ And Roger, the streak looks like it will continue for now, but it leaves us with a big question to be answered: Out of all of the co-stars he's managed to click with in his career, who's the best co-star to have made their bones in a Will Ferrell movie?
Brace yourselves, as we're about to evaluate days of Ferrell past and count down the 10 best partners to buddy up with the weird and wondrous man we know as Will Ferrell.
10. Kevin Hart (Get Hard)
Get Hard is a prime example of a movie that tried to become the next big thing, and wound up becoming a perfect film to find its audience in future TBS reruns. You can tell that putting Will Ferrell in a movie with Kevin Hart was a very calculated move, as Hart's rising star seemed destined to cross a comedic mainstay like Ferrell's path. The big problem with Get Hard's attempted dynamic is the fact that it can't decide which member of the pair is the straight man is and which one is the zany madman. In a more focused product, this might have been a duo to look out for. Instead, they chose the "safe" route and came in low.
9. Chris Kattan (A Night At The Roxbury)
There is an undeniable chemistry between Will Ferrell and former SNL co-star Chris Kattan - otherwise A Night At The Roxbury would have been a total waste of time. Playing a pair of equally stupid, and equally talented club dwellers, the Ferrell/Kattan team is one that works best when dialogue is in short supply and body language rules the day. Unfortunately, bringing Steve and Doug Butabi to the big screen required more dialogue than we'd ever heard these awkward characters ever speak in their entire pairing, and the unfortunate truth is that neither of the lead actors walked away entirely unscathed.
8. Zooey Deschanel (Elf)
Out of all of the unlikely pairings that we've seen in the past decade or so, Zooey Deschanel's love interest/accomplice to Will Ferrell's Buddy in Elf has to be one of the oddest. Yet, somehow, this couple skips the awkward phase and jumps into more adorable territory. It certainly helps that Deschanel is playing the cranky pessimist to Ferrell's optimist, but the more innocent context that Elf exists in is the glue that holds this pair together. That, and the adorable locker room duet of "Baby, It's Cold Outside" definitely helps.
7. Robert Duvall (Kicking and Screaming)
Will Ferrell is at his best when he's desperately trying to please a father figure. In Kicking & Screaming, the towering comedian plays a mild-mannered suburban dad who's a constant disappointment to his competitive pop, played by the great Robert Duvall. The latter has so much fun abusing Ferrell -- who understands that playing the victim leads to incredible comedy -- and when Chicago Bears head coach Mike Ditka gets in on the act, the film kicks things up to a new level. Extra points go out to Ferrell in this soccer comedy for being able to hold his own against an icon like Duvall, and still find the funny in some uncomfortable situations.
6. Danny McBride (Land Of The Lost)
When he's playing a stick in the mud, much like Dr. Rick Marshall in the vastly forgotten film adaptation of Land Of The Lost, Will Ferrell really needs someone who knows how to bust his chops to great effect. In that respect, Danny McBride's Will Stanton is just the kind of guy you'd expect to run a tourist trap out of his trailer, much less give a scientific professional hell on a routine expedition. With his tough talking swagger, and a twisted sense of humor, McBride's adversarial relationship with Ferrell manages to make for the most interesting scenes of the movie.
5. Zach Galifianakis (The Campaign)
While The Campaign isn't the most memorable film for either Will Ferrell or Zach Galifianakis, it's still a pretty funny film that more people should have rallied behind in its 2012 theatrical release. This is especially true because it's a feature that not only showcases Ferrell's cocky bravado, but also gives Galifianakis a chance to be the lovable doofus the audience pulls for. The Campaign proved that Ferrell could give the other guy the chance to win the audience over, as he straddles the line between villain and pawn. Together, the two actors enhance each other's strengths, and that's gold in the comedy world.
4. Jon Heder (Blades of Glory)
Two things clicked into place on 2007's Blades of Glory. First, Will Ferrell continued his streak of making hilarious comedies out of unexpected sports (here, it was figure skating). And second, Hollywood figured out another way to use Jon Heder in a post-Napoleon Dynamite world. Their opposing approaches to comedy played off of each other well, with Ferrell turning in an arrogant blowhard for the ages in Chazz Michael Michaels. But Heder didn't wilt under Ferrell's steely comedic gaze, bringing pathos and misplaced confidence to the surprisingly competitive Jimmy MacElroy. They were a great pair, one we'd like to see on screen together again.
3. Christopher Jordan Wallace (Everything Must Go)
Of all the Will Ferrell titles on this list, Dan Rush's Everything Must Go is easily the most obscure - but it actually features one of his best performances and one of his best team-ups. In the movie, Ferrell plays an alcoholic forced to live out on his lawn, and while he's basically completely alone in the world, he finds a very special companion in his neighbor's kid, Kenny (Christopher Jordan Wallace). The two have tremendous chemistry and back-and-forth together, and it really makes this little-seen indie worth seeking out.
2. Mark Wahlberg (The Other Guys)
While Mark Wahlberg is the textbook definition of "one tough son of a bitch," he's also got a killer sense of humor. You kind of have to when you star in two films for Michael Bay, otherwise you'll probably end up becoming a crazy person who may or may not be an actual cannibal. It's that brand of humor meets intimidation that Wahlberg uses to his advantage as Terry Hoitz – the partner to Will Ferrell's more reserved Allen Gamble in The Other Guys. While Ferrell goes long into the end zone of over the top laughter, Wahlberg not only provides a formidable anchor for his partner's performance, he also manages to steal some comedic base hits himself.
1. John C. Reilly (Talladega Nights: The Legend Of Ricky Bobby/Step Brothers)
There was only ever one candidate for number one when it comes to our preferred partner in crime for Ferrell's antics. Though the pair started working together in Talladega Nights: The Legend Of Ricky Bobby, it wasn't until their work on Step Brothers that the Will Ferrell/John C. Reilly team really clicked for us. Between the rapid fire dialogue, the escalating stakes of manhood being waged, and – of course – the music video to "Boats And Hoes," there was a manic chemistry that has yet to be matched by any collaborator that decides to step into the ring with Will Ferrell.
Senior Movies Contributor
CinemaBlend's James Bond (expert). Also versed in Large Scale Aggressors, time travel, and Guillermo del Toro. He fights for The User.
Your Daily Blend of Entertainment News
Thank you for signing up to CinemaBlend. You will receive a verification email shortly.
There was a problem. Please refresh the page and try again.