Will Ferrell Fans Shouldn't Hold Their Breath For Anchorman 3, Step Brothers 2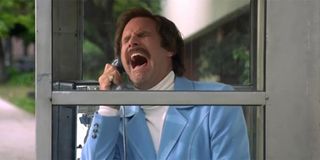 For years, Will Ferrell and director Adam McKay labored to get a sequel to Anchorman: The Legend Of Ron Burgundy in theaters. The trouble with bankrolling a Ferrell movie, however, is that Will Ferrell doesn't travel: his films play to crickets when it comes to international audiences, usually totaling only 20%-30% of its global gross outside of the country, and sometimes less. And Anchorman, which deals with American news, is an especially tough sell outside of the country, making McKay and Ferrell's push a pretty hard sell. Nonetheless, $169 million global later, and Ferrell and McKay can crow about Anchorman 2: The Legend Continues being their biggest success. Makes sense that an Anchorman 3 would be on the way, right?
Not so fast. Speaking to Empire Magazine, McKay finally puts the leader of the Channel 4 News Team on ice.
Seems pretty definitive. People forget that while there have only been two movies, Ferrell and McKay have lived with Burgundy for quite awhile. They basically shot two entire movies the first time around, the excised footage taking the form of Wake Up Ron Burgundy. And the latest film has a completely different R-rated cut that hits theaters today, effectively an entirely new film. Add that to the frequent public appearances of the character and the various DVD special features, and Burgundy has been a presence in McKay and Ferrell's lives.
"Last sequel we're gonna do" also definitely puts the kibosh on a second Step Brothers, not to mention a Talladega Days that I just made up and no one has asked for. McKay's next endeavor will be his first film away from Ferrell, his former Saturday Night Live collaborator, a remake of Uptown Saturday Night. He's tentatively got Will Smith and Denzel Washington interested in starring, and McKay and Forgetting Sarah Marshall director Nicolas Stoller are writing the film, which McKay claims is different from a buddy formula like The Other Guys.
As McKay says, it's up in the air, as projects like this and his adaptation of The Boys, and his adaptation of Michael Lewis' The Big Short have a way of vanishing. That being said, should these projects fall apart, McKay is eliminating a helluva safety parachute. Anchorman 2 took Burgundy into the 80's and the world of cable news, and you'd love to see him pop up in the 90's, in the world of O.J. Simpson, Monica Lewinsky and Super Nintendo. Maybe McKay and company change their mind, and Burgundy comes back. Or maybe he's dead and gone forever, swimming in the deep ocean with his precious Doby, into a whale's vagina.
Your Daily Blend of Entertainment News
Thank you for signing up to CinemaBlend. You will receive a verification email shortly.
There was a problem. Please refresh the page and try again.