Fifty Shades Of Grey 2 Will Change Genres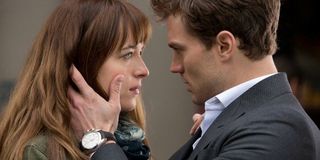 Fifty Shades Of Grey was only in cinemas just a few short weeks ago, but not only has its sequel undergone major changes since then, we've now also got our first teaser trailer for the follow-up, too. But Fifty Shades Of Grey 2 is going to be drastically different to its predecessor according to Universal. Because rather than being an erotic drama, it's actually going to be more of a thriller. Just with loads of nudity.
Donna Langley, who is Universal Pictures' chairman, spoke to The Hollywood Reporter at the yearly Power Lawyers breakfast about the recent financial success of Fifty Shades Of Grey, also admitting that the sequel will learn from the mistakes that the original made. When asked about the development of the film, Langley teased that it is "more of a thriller." There's no elaboration on that, but from what we know from the book, Fifty Shades Darker does introduce additional characters and some new drama for Christian and Ana to deal with, which may factor in to whatever thrills are in store.
Langley also explained how Niall Leonard, who has been hired to script Fifty Shades Darker -- and also happens to be the husband of E.L. James, who wrote the novels -- got the job despite his lack on feature film experience.
Obviously, his work was so sterling on the original screenplay that Universal is confident he can handle their coveted franchise.
But Fifty Shades Darker stories continue to emerge, even though production on the film isn't due to begin for several more months. In fact, rather surprisingly, we've been given our first look at Fifty Shades Darker in the form of a teaser trailer for the flick. And while it might not show us anything overly revealing, it's plenty more than anyone of us expected at this point.
Jamie Dornan looks spiffing in a suit: who knew? Either that clip is Dornan's Christian Grey preparing to go to one of his very classy yet very naked sex parties, or he's decided to become a bank robber and has embraced old-school attire for his crimes.
That clip suggests that Jamie Dornan in fact will be returning to the franchise as Christian Grey; something that was uncertain, as both the Northern Irish actor and Dakota Johnson (who starred opposite Dornan in Fifty Shades Of Grey and was basically the only good thing in it) are still believed to be negotiating pay increases for the sequel. They should be under contract, though given the success of the movie, raises might be in order. Universal must be confident that at least Dornan will sign on the dotted line, otherwise they probably wouldn't have featured him in the trailer.
At the moment we still don't know who will be replacing director Sam Taylor Johnson, who has departed the series. But with the film due out in February 2017, we can expect her replacement to be revealed sooner rather than later.
Your Daily Blend of Entertainment News