Fifty Shades Of Grey Failed In Japan, This Is Why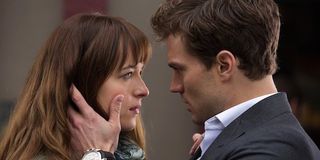 With all the hysteria surrounding Sam Taylor-Johnson's controversial Fifty Shades of Grey, one would assume it was not only a huge hit in the U.S. but also abroad. And for the most part you would be correct, as the erotic drama had huge openings in many countries around the world, breaking records in France, Russia, Ireland and the UK. One country however, Japan, didn't buy into the massive hype of the Dakota Johnson and Jamie Dornan-led romance movie. Here's why.
According to THR, there were three major factors: poor choice of release date; a delayed release of the new Japanese-language editions of the books; and an R-15 rating (ages 15 and older permitted) re-edit with blurred out portions of the film's sex scenes. Shigeto Arai, managing director of promotion at film distributor Toho-Towa, explains:
Just how badly did Fifty Shades of Grey perform in Japan? First off, it only managed to scoop up a meager $682,000 (?81 million) during its opening Valentine's Day weekend run. The film, which ran on a total of 324 screens, placed fifth on the week's box office charts and eventually dropped out of Japan's top 10 the following week. To put things in perspective, the much smaller Philippines cinematic market brought in $2.2 million during its opening weekend.
Fifty Shades may have done poorly in Japan right out of the gates but it has seen a bit of an uptick due to the recent release of un-blurred versions in six theaters. If it continues to do well, the plan is to release the R-18 version more widely across the country. Not only that, sales of the translated versions of E.L. James' books (which hadn't been selling all that well likely due to heavy erotica competition) in the country have doubled since the film's release.
In other Fifty Shades of Grey news, the above-mentioned Dornan was recently reported to be separating himself from the franchise. But a rep for the actor recently confirmed the speculation to be nothing more than rumors, and we expect Dornan to reprise the role of CHristian Grey in the Fifty Shades sequels... if and when they happen.
Check out Fifty Shades in theaters now.
Your Daily Blend of Entertainment News