Watch A Disney Star Strip After Losing A Fifty Shades Of Grey Bet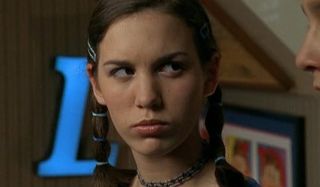 Whatever happened to Christy Romano from that old Disney Channel series Even Stevens? Shia LaBeouf's on-screen big sis is making bets with her husband over Fifty Shades of Grey. She hated the "misguided film," as she called it, so much that she was convinced it wouldn't make the top spot at the box office. Obviously it did, and now she's suffering the wrath of her wager.
Christy posted this video of herself standing out on her frosty balcony in her underwear, as per the terms of the bet. If her husband had lost, he would've had to do the same, only in his boxers. The fact that she has long hair and lingerie that covers more of her body than boxers is at least a plus.
The reason Christy took so much issue with Fifty Shades is because of how it deals with consent. She's campaigning to expose more people to the themes of the film. In doing so, she's also supporting the Rape, Abuse & Incest National Network (RAINN), the "nation's largest anti-sexual violence organization." Christy flashed a sign with the hashtag #Consent in the video, and tweeted the following to urge everyone to talk to the women in their lives.
Fifty Shades' depiction of a BDSM love story between the wealthy and domineering Christian Grey (Jamie Dornan) and the innocent and inexperienced Anastasia Steele (Dakota Johnson) has caused a whole slew of controversies. As far as the issue surrounding consent, the film dives into (no pun intended) a grey area. On the one hand, E.L. James wrote the story on which this is based as an erotic fantasy. On the other side, the film that everyone saw in theaters featured Anastasia asking Christian why he wanted to cause her pain and change her into something that she's not.
In addition to #Consent, Fifty Shades stirred up another online campaign, this one occurring mostly prior to the film's theatrical release and focusing on the issue of sexual violence. #50DollarsNot50Shades urged audiences to turn their movie ticket and popcorn money into donations towards women's abuse shelters and sexual violence prevention and counseling services. It's been supported by such organizations as The National Center on Sexual Exploitation, London Abused Women's Centre and Stop Porn Culture. Despite their efforts, the controversy only added more fuel to the fire stoking Fifty Shades' success. Fandango was bombarded with an overwhelming amount of pre-ticket orders, and the film set records in taking the top box-office spot.
Now that people have seen the film, could there still be a chance for these campaigns to change minds? Director Sam Taylor-Johnson announced that there would be two more sequels to Fifty Shades coming our way. Could more backlash like this put a chink in the chain, or prompt even more people to see what the fuss is about?
Your Daily Blend of Entertainment News