Jamie Dornan Finally Went On Record About His Fifty Shades Of Grey Future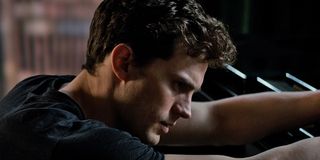 The enormous success of Fifty Shades of Grey has held popular culture hostage over the last month. However, despite its (unfortunate) ubiquity and over $411 million global take, rumors have already taken hold which imply that Jamie Dornan may not be returning for a prospective sequel. However, a new statement released by the actor's representative implies that this is not the case at all.
Addressing the rumor that Dornan might be looking for a way out of his contract to reprise the Christian Grey role, a rep for the actor told People magazine:
While that does sound like the kind of over-polished, uber-optimistic type of PR copy that's typically distributed in attempts to squelch media fires, the implications of Dornan's displeasure with Fifty Shades and its franchise aspirations with a prospective sequel, Fifty Shades Darker are still just unconfirmed rumors. Yet, the old adage "where there's smoke, there's fire" might be applicable in this case. While that might sound a bit tabloid-ish, the rumors of disharmony over this picture have been more numerous than any other recent film. In fact, despite the film's enormous success, the seemingly surefire sequel has yet to be greenlit.
The most recent rumor, initially reported by an Australian gossip magazine which cited an "unnamed source," claimed that the 32-year-old Dornan was "disillusioned" with the Fifty Shades experience, which has apparently caused tension between he and his wife, actress Amelia Walker. The idea that Amelia has reportedly yet to see the film and is taken aback by the unwanted female attention the film has brought her husband also drives home the idea that there may be some regret in the Dornan camp.
It's hardly an isolated case of rumored discord in the Fifty Shades family. There are several aspects of the various working relationships in the film, from the questionable chemistry between Dornan and co-star, Dakota Johnson, to rumblings of dilatory creative friction between original book author, E.L. James and director, Sam Taylor-Johnson. When you add the rumors of Dornan's marital friction and clearly awkward moments for the stars over the film, notably the recent Oscar red carpet interaction between Dakota Johnson and her mother, Melanie Griffith, you begin to see at least a tinge of fear that this film might end up being toxic for the long-term careers of its stars.
Even if these rumors prove to be untrue and the original duo return for Fifty Shades Darker, it's actually difficult to discern if financial lightning can strike twice. Because, as far as critics including our own, are concerned, the film is far from an artistic achievement and revels in the forced relationship between seemingly lifeless characters, buttressed on the "scandalous," gimmicky nature of their notoriously unorthodox sexual encounters. While the film hit huge with a well-timed $85 million domestic Valentine's Day weekend opening, it experienced a dramatic, possibly-telling 74 percent drop in just its second week. This could imply that the overall curiosity of moviegoers over Fifty Shades was mollified plenty with a single viewing. This does not bode well for its venerability as a continuing franchise.
Fifty Shades of Grey is out at theaters now, where you can determine for yourself if the film's sexual intrigue is something worthy of more than a one-time fling.
Your Daily Blend of Entertainment News
Thank you for signing up to CinemaBlend. You will receive a verification email shortly.
There was a problem. Please refresh the page and try again.