The Fight Over The Butler's Title Now Includes A Lawyer Fresh From The Supreme Court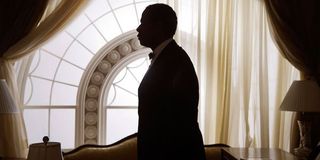 Movie studios and executives go to war with each other all the time, but we rarely get wind of it. Few moviegoers care when a certain exec is fired or replaced with another, when one studio gets the rights to a hotly contested book adaptations instead of another, or even when two studios team up to get a movie made and then fight over the profits-- that's how the Hollywood sausage gets made, and it rarely affects what you actually see in theaters.
But sometimes these fights among giants are both hilarious and important to the moviegoer, so we're psyched to continue watching the unfolding drama of The Butler-- the upcoming Lee Daniels-directed drama starring Forest Whitaker-- and The Butler, the 1916 short film that Warner Bros. claims would be inevitably confused by moviegoers with the new film. It's the kind of claim that is patently insane on its face-- who goes into the movies in 2013 expecting to see a nearly century-old short film that's not even available on DVD?-- but the MPAA bought it, allowing WB to tell the Weinstein Company, who will be distributing The Butler, that they have to change the title.
But if you know anything about Harvey Weinstein, and especially the way he handles films that he thinks have Oscar potential, you know he's not going to give up that easily. The Hollywood Reporter has learned that the Weinstein Company has enlisted powerful attorney David Boies, who argued against Proposition 8 at the Supreme Court earlier this year, to defend their title. Here's the statement that Boies made:
We're not taking about a court challenge here though-- you can't copyright a title, and Warner Bros. can't sue the Weinstein Company if they keep The Butler. But both companies are part of The Registration Bureau, an organization run by the MPAA that helps keep track of titles and make sure there's no room for confusion. It's totally unclear how Warner Bros. managed to win their case with the MPAA and explain that The Butler was damaging their archival short film-- they didn't even claim that they were planning to use the title in any way. And I'm also unsure exactly what Boies will do to help the Weinsteins win their case, beyond making strongly worded statements to the press and proving with his very presence that they mean business.
Part of me can't help but think that this is all about last year's Oscar race, secretly. Warner Bros. was the big winner when Argo took home Best Picture, while The Weinstein Company was in the thick of it to the very end with Silver Linings Playbook, which stood a decent shot at winning Best Picture itself. Think this is just another way of Warner Bros. rubbing in their victory? Hey, it's just as plausible as any other explanation for this nonsense.
Check out the trailer for The Butler below and let us know if you've thought of any other brilliant new titles Lee Daniels can use if Harvey Weinstein loses the battle.
Staff Writer at CinemaBlend
Your Daily Blend of Entertainment News
Thank you for signing up to CinemaBlend. You will receive a verification email shortly.
There was a problem. Please refresh the page and try again.