First Look At Adam Sandler In Drag For Jack And Jill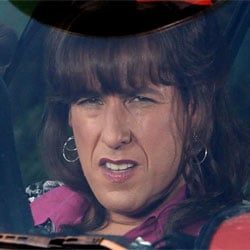 Shave my beard off and put me in a wig, and maybe I'd make a pretty girl. Some guys do. Adam Sandler? Not so much. Luckily Sandler hasn't had to do a lot of work in drag since leaving Saturday Night Live, but he'll be back in a dress for his next movie Jack and Jill.
That's your first look at Sandler as a woman to the right, from the set of Jack and Jill. Here's how Sandler himself described the plot a few weeks ago:
So basically Adam Sandler is going to put on a dress and torture himself. Sounds… weird. See a bigger version of the Sandler in drag image on TMZ.
Here's a look at Sandler in his SNL days playing a girl gossiping at The Gap. It's no Opera Man.
Your Daily Blend of Entertainment News