First Look At Chaka In Land Of The Lost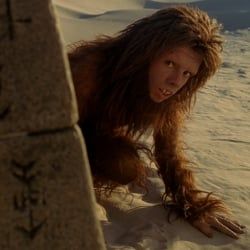 The person you see at right is not Teen Wolf. Nor is it a small child dressed as Teen Wolf. It's our first look at the character of Chaka in Land of the Lost, the upcoming remake of the classic 1970s sitcom starring Will Ferrell.
AICN snagged the image, and Harry Knowles nearly peed himself with excitement over the remake of this childhood favorite. Chaka will be played this time around by Jorma Taccone, who's one-third of the Lonely Island comedy group where Andy Samberg got his start. I've been unclear until now on how true to the original series the movie was planning to, but all the original main characters are starting to be accounted for.
We'll get another look at Chaka in live-action in tomorrow's Super Bowl ad for Land of the Lost, but head to AICN for the full version of the image right now.
Staff Writer at CinemaBlend
Your Daily Blend of Entertainment News
Thank you for signing up to CinemaBlend. You will receive a verification email shortly.
There was a problem. Please refresh the page and try again.