First Look At The Comedy Team From Horrible Bosses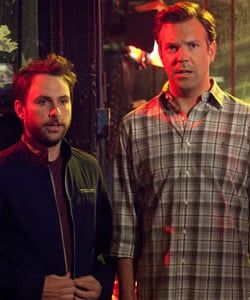 Warner Bros. has released several images and synopses for its 2011 comedy line-up including Crazy, Something Borrowed, and Hall Pass, but the most exciting release is this first image from Horrible Bosses which shows off maybe the funniest comedy trio since the Three Amigos.
Jason Sudeikis and Charlie Day spread hilarity on SNL and It's Always Sunny respectively, and Jason Bateman... well, he's Jason Bateman, goddamn it. He was on Arrested Development for Christ's sake. The man knows comedy. This team has joined forces for Seth Gordon who has given us quite a spread of content. His comedy background has him directing at least one episode of each of the NBC Thursday shows (save 30 Rock), Community, The Office, and Parks and Recreation, as well as an episode of Modern Family.
The film's support is also very impressive. Jennifer Aniston, Colin Farrell, Jamie Foxx, Kevin Spacey, Donald Sutherland, and Julie Bowen all co-star with the three front men.
There's no doubt that 2011 will have some funny movies for us, but this is already a front runner to compete with the current favorite The Hangover Part II. Scope out the image and synopsis below.
Your Daily Blend of Entertainment News
Your Daily Blend of Entertainment News
Thank you for signing up to CinemaBlend. You will receive a verification email shortly.
There was a problem. Please refresh the page and try again.