First Look At Pissed Off Clint Eastwood In Gran Torino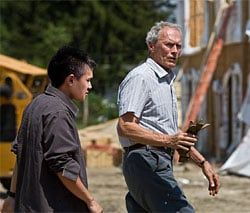 The next movie from Clint Eastwood should be a big deal, so why are we only now seeing something from Gran Torino? The movie hits theaters in December, and USA Today (opens in new tab) has your first look.
Clint Eastwood both directs and stars as a Korean war veteran named Walt Kowalski, and if the movie's first poster is any indication, Walt Kowalski is really pissed off. It's good when Eastwood plays pissed off. It seems Kowalski is a racist harassed by punk kids in his Detroit neighborhood, punk kids who have their eye on his prize possession: a classic car. In addition to owning a nice car Kowalski also owns a gun, which he appears more than ready to use.
The first trailer for Gran Torino is due to hit theaters this weekend, in front of Changeling. Check out the poster below, and click over to USA Today (opens in new tab) for more.
Your Daily Blend of Entertainment News
Thank you for signing up to CinemaBlend. You will receive a verification email shortly.
There was a problem. Please refresh the page and try again.