First Three Twilight Movies Will Be Back In Theaters On Tuesdays Next Month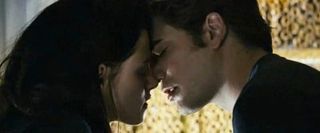 With The Twilight Saga: Breaking Dawn Part 1 set to hit theaters next month, it's likely that a lot of fans of the series are planning to rewatch the earlier films in preparation for the next chapter of Edward and Bella's story. If you're among them, you may be able to see all three of the previously released movie on the big screen again.
Want to watch Edward and Bella's courtship play out on the big screen all over again? Fathom Events is teaming up with Summit Entertainment to re-release Twilight, New Moon and Eclipse in theaters on Tuesday nights next month. Here's the schedule:
All screenings will take place at 7:30 p.m. local time. Here's the doc with the list of theaters participating in this event. Or you can just go here and put your zip-code in to see what theaters near you are participating (and you can also order tickets from there).
Sure, if you're a mega-fan, it's likely that you already own all three films on Blu-ray, but there's definitely something to be said for geeking out in a public place with other Twi-hards.
For more news and updates on The Twilight Saga: Breaking Dawn Part 1, check out our film database here.
Your Daily Blend of Entertainment News
Thank you for signing up to CinemaBlend. You will receive a verification email shortly.
There was a problem. Please refresh the page and try again.