Forest Whitaker May Play MLK In Paul Greengrass' Memphis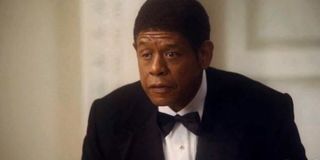 Forest Whitaker recently got a taste of American history by playing longtime White House butler Cecil Gaines in Lee Daniels' The Butler, which audiences will be able to see later this year. But did it give him enough of a taste to compel him to continue on in the Deep South to play a legendary U.S. figure for a prestigious biopic?
It's possible, as The Wrap is reporting that Whitaker is discussing the possibility of playing Martin Luther King Jr. in Memphis, a movie directed by Paul Greengrass. The trade says that Greengrass finally secured financing for his dream project, and likely plans to make it his next directorial effort. He intends to shoot it in his trademark docu-drama style, which ramped up the action in the Bourne series but also brought a disturbing sense of realism to his harrowing and brilliant United 93.
Greengrass has shopped Memphis to assorted studios, setting up and losing deals at Universal and Sony before deciding to go the indie route. It seems crazy that a studio wouldn't want to gamble on a proven talent like Greengrass tackling an historical story that's sure to appeal to a broad audience. But historical biopics don't tend to break the bank – even with Oscar's blessing backing them, when that happens – so perhaps that explains why Greengrass has struggled to get Memphis on screen.
The Wrap says that the screenplay will focus on King's internal struggles regarding his life's work, and the toll it takes on his family. Whitaker won an Oscar for playing Idi Amin in The Last King of Scotland. Greengrass, meanwhile, has the Somali pirate drama Captain Phillips with Tom Hanks on the horizon. If he and Whitaker end up on this year's Oscar trail, it will be fun to see them prep Memphis right before our very eyes.
Movie junkie. Infatuated with comic-book films. ReelBlend cohost. Resident dad. Extroverted introvert. Wants to see the Snyder Cut. Managing Director at CinemaBlend.