Forget Cornetto! Edgar Wright And Simon Pegg Are Doing This Together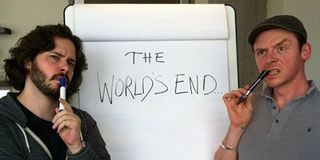 It was nearly a year ago to the day that Edgar Wright, Simon Pegg, and Nick Frost drew a curtain on their Cornetto Trilogy with The World's End. But the end of this thematic threesome that included the apocalyptic comedy, Hot Fuzz and Shaun of the Dead, doesn't mean an end to the collaboration of the men behind it. So says Simon Pegg!
As a guest on BBC 6 Music, Simon Pegg revealed that he Edgar Wright are already brewing a new movie up that will move beyond the three films they have already collaborated on. The actor shared a string of details about the new project, but sadly nothing too specific. He began, "Edgar and I were having a conversation the other day about it, and it has a title and everything. We're kind of into a creative cycle now."
Speaking of the Cornetto trilogy, Pegg went on:
Is this a hint that this unnamed next feature could wind up tying in to another future trilogy? Or is Pegg just blithely expressing his love of working with Edgar Wright? It's hard to say. After all, Pegg has developed a reputation for playing sly with soundbites. It's worth noting that the idea of the "Three Flavours Cornetto trilogy" didn't even exist until the second movie Hot Fuzz was doing its promotional tour.
However, those hungry for more for Wright and Pegg --Cornetto flavored or otherwise--will probably have a while to wait. Sure, Edgar Wright's schedule opened up a bit in the wake of his departure from Ant-Man --an occurrence Pegg calls "a terrible shame." But he's already been tapped to helm Baby Driver. And Pegg already has a pretty packed dance card himself.
Currently doing press for Hector and the Search for Happiness, Pegg has recently wrapped on three films: the rom-com Man Up, the thriller Kill Me Three Times, and the Terry Jones-directed sci-fi comedy Absolutely Anything. He also has a small voice-over roll in the new stop-motion film The Boxtrolls. He has also slightly hinted that he might be popping into Star Wars: Episode VII, reuniting him with director J.J. Abrams. Speaking of which, he also has a tiny project currently called Star Trek 3 that he will be committed to for the next couple of years.
While we wait for this mystery project to come together, Cornetto fans can look for a reunion of sorts this Halloween on the cartoon show Phineas & Ferb, where Pegg and Frost will reprise their roles from Shaun of the Dead.
To learn about the origins of the Cornetto trilogy, click to the next page and check out the awesome video!.
Staff writer at CinemaBlend.
Your Daily Blend of Entertainment News
Thank you for signing up to CinemaBlend. You will receive a verification email shortly.
There was a problem. Please refresh the page and try again.