Fourth Ethan Hunt Movie To Be Called Mission Impossible: Ghost Protocol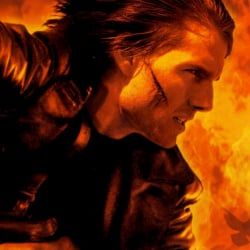 If you snickered at the title The Dark Knight Rises or even thought it couldn't ever be worse than Transformers: The Dark Of The Moon, oh, you have no idea how much more hilarious blockbuster movie titles can get. Tom Cruise announced during a press conference in Abu Dhabi (via Gulf News and Vulture) that forthcoming Mission: Impossible movie has gotten a title, and its…. oh this is just too good…
The movie is titled Mission: Impossible Ghost Protocol. Or maybe Mission Impossible: Ghost Protocol-- it's kind of unclear where the colon should go at this point. Or really, what the hell that title could possibly mean, and why they're moving away from the clean-and-simple numbered sequel format. There had been rumors that they would ditch the Mission: Impossible title entirely, in an attempt to rebrand the series separately from crazy Tom Cruise, but now the pendulum has seemingly swung in the exact opposite direction, toward a title that makes no sense and is grammatically confusing to boot.
In other news from the press conference, producer Jeffrey Chernov referred to Dubai as the "centerpiece" of the film, even though we've seen photos of Cruise and director Brad Bird scouting locations in Prague. Though the Sex and the City sequel claimed to be filming in fellow United Arab Emirates city Abu Dhabi, Ghost Protocol will be the first Hollywood production to shoot in Dubai. Hopefully they have an easier time not laughing at the title than I am right now.
Staff Writer at CinemaBlend
Your Daily Blend of Entertainment News
Thank you for signing up to CinemaBlend. You will receive a verification email shortly.
There was a problem. Please refresh the page and try again.