Fox Launches Mentoring Program For Female Directors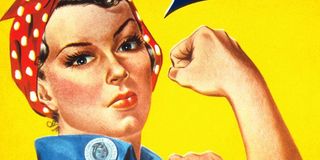 It's long been said Hollywood is a boys' club. Statistics back up this cliche again and again, showing that males are 3x more likely* to be represented in movies than females. Men made up 94% of directors who worked on the top 250 films of 2013. And in the entire history of the Academy Awards, only four women have ever been nominated for Best Director at the Academy Awards. (That would be Lina Wertmuller, Jane Campion, Sofia Coppola, and Kathryn Bigelow, who won for The Hurt Locker). Many have blamed an ingrained institutional sexism for such shocking figures. And now an institution is joining the cause to get more female voices heard in Hollywood.
Variety reports 21st Century Fox is developing a mentorship program for female filmmakers, in hopes of bolstering the presence of women in film. Called the Fox Global Directors Initiative, this program will accept 20 participants who will be welcomed into a five-week directors lab. At the end of this lab, five of these female filmmakers will be asked to extend their instruction for about another 10 months, wherein their project could earn support funding as a Fox short film. Basically, Fox is offering an often-ignored segment of directors the chance to learn, grow in their craft, and produce a short that could well prove an outstanding showcase of their talents and abilities.
Fox Broadcasting Co. chief operating officer Joe Earley explains the importance of the Global Directors Initiative this way:
It'll be interesting to see how this initiative develops, or perhaps more importantly what talent it develops. Presumably, those who stand out in this program will have an incredible opportunity not only to make a short film, but to make one that will already have the attention of a major studio. And it'll give Fox the inside track on a whole batch of promising new talent.
There's been a growing interest in stories told about women, by women and/or for women as more and more tear it up at the box office. In 2011, Bridesmaids stunned box office followers, as this R-Rated comedy, fronted by females with no major stars, raked in $288 million, making it Judd Apatow's highest-grossing production to date. 2012 brought The Hunger Games, a female-fronted action movie that earned a whopping $691 million worldwide and made a major star out of Jennifer Lawrence. 2013 had a trio of high-grossing female-fronted tent poles, from the Sandra Bullock/Melissa McCarthy comedy The Heat ($229 million worldwide) to The Hunger Games: Catching Fire ($864 million) to Disney's animated musical Frozen, which went on to become the highest grossing film of the year with $1.26 billion to its name. Of course, it's worth noting only the last of these had a female director (Jennifer Lee co-helmed alongside Chris Buck).
Could the next change Hollywood sees be more big movies actually entrusted to female directors? Fox's initiative could be a step toward that direction.
*For more about how statistics of representation of film, click here.
Your Daily Blend of Entertainment News
Staff writer at CinemaBlend.
Your Daily Blend of Entertainment News
Thank you for signing up to CinemaBlend. You will receive a verification email shortly.
There was a problem. Please refresh the page and try again.