Fox Sues A Struggling Mom For Distributing The Deadpool Script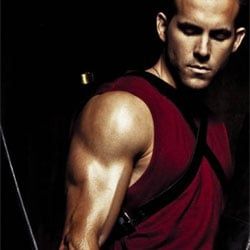 20th Century Fox has long had a reputation among both the press and fans as the most aggressive and unfriendly Hollywood studio. Advance screenings of their films often come, quite literally, with an obligatory pat down. It's not an issue of public relations really, their PR team is as friendly and helpful as possible. They're great people who don't like forcing fans to submit to search and seizures to see their movies, any more than we like having our personal property confiscated by angry, accusatory, minimum wage security guards. It's their legal department that seems responsible for most of the studio's strangely aggressive tactics, sending takedown notices and threatening lawsuits to internet users for reasons which are both baffling and bizarre. Now they're suing a middle-aged mom.
At issue is the script for the upcoming movie Deadpool, which leaked online months ago, and they've since worked to erase any trace of it using aggressive takedown notices sent out from their legal department. In some cases those legal notices were used not just to erase any trace of the script itself, but to force webmasters to remove any discussion of the script, or even links to discussion of the script, as well. Now they've taken the next step and they're suing people for distributing it.
THR says the studio has filed a $15 million dollar suit against flower saleswoman and aspiring screenwriter Patricia McIlvaine, who has posted nearly 100 different scripts online, without authorization from copyright holders. Basically, they've decided to ruin her life. Here's how Patricia describes her situation on this website:
According to Patricia, she wasn't even the source of the Deadpool script leak. The script was already widely available online from other sources when she posted it. Those sources it would seem, are not being sued.
So far there's been no word that Fox is suing the person who actually leaked the script, if indeed they can find the leak. Nor have they so far taken any action against Gawker Media's io9, where as part of their script review they've included copy/pasted excerpts taken directly from the illegally distributed script. While Fox's lawyers have been used to force others to take down even things as innocent as discussion of the script's existence, for some inexplicable reason io9, backed by big corporate money and lawyers of their own, has been allowed not only to discuss the script but blatantly republish portions of Fox's copyrighted material, apparently without consequence. I guess soccer moms are easier targets.
Patricia McIlvaine, who has no money to defend herself against a multi-million dollar lawsuit from a corporate monolith, has set up a legal defense fund. If you'd like to help, go here for details on how to donate.
Your Daily Blend of Entertainment News