Foxcatcher Emerges As The Year's First Best Picture Oscar Contender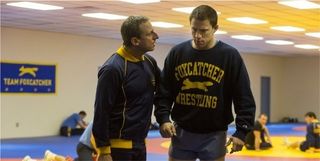 After a brief production delay, which knocked it out of distribution in time for last year's Oscar race, Bennett Miller's dramatic Foxcatcher made its world premiere at the Cannes Film Festival, and reactions have been overwhelmingly positive.
UPDATE: On the heels of the great Cannes buzz, Sony Pictures Classic dropped this new teaser for Foxcatcher. Watch it now!
Several top critics who were able to take in Bennett Miller's latest in Cannes started throwing around the "O" word. In May. Months before any sort of official awards race begins. Seriously, Tweets like this give me cold sweats, thinking that the annual grind of the lengthy Oscar marathon might actually have already begun:
Talk of anyone "sweeping" an Oscar season before we've had a chance to see 99% of the movies that should compete is lunacy. It isn't even the halfway mark of the calendar year, and studios regularly back-load their strongest awards contenders in the fourth quarter, so that contending movies are fresh in the minds of nominating Academy members.
But there's no denying that Bennett Miller's Foxcatcher made a splash in France with its powerful debut. Variety calls it "the sole credible awards-season heavyweight to have emerged from this year's Cannes Film Festival," and comments, "Despite its hefty 134-minute running time, Foxcatcher doesn't have an ounce of the proverbial narrative fat."
The Hollywood Reporter also praised Bennett Miller's true-crime saga, calling it "a superbly modulated study of a twisted mind with a career-changing performance by Steve Carell."
Not familiar with Foxcatcher? In the film, Steve Carell plays schizophrenic American mogul John DuPont, who enters into a deadly standoff with former Olympic wrestling champion Mark Schultz (Channing Tatum) after DuPont murders Schultz's brother (played by Mark Ruffalo). Miller almost had the film ready to contend in last year's Oscar race, but the decision was made to hold it until later this year. Perhaps it needed tinkering? Perhaps the field was too crowded last year? Either way, Sony Pictures Classics decided to roll it out in Cannes, and the decision appears to be paying off.
However, Cannes buzz doesn't always pan out. Ask Joel and Ethan Coen if Cannes buzz helped their last film, Inside Llewyn Davis, when it came time for the Oscars. Because that film roared out of Cannes with loud awards buzz, and it received zero nominations from the Academy. Bennett Miller's a genius filmmaker who has a proven track record with the Academy, thanks to fantastic films like Moneyball and Capote. Foxcatcher is getting off to a great start, but SPC has to keep momentum going between now and the movie's planned November release date. Here's a Foxcatcher clip, to give you an idea of the mood, and of Steve Carell's horrific transformation. The movie's eyeing a Nov. 14 release date.
Managing Director at CinemaBlend. ReelBlend cohost. A movie junkie who's Infatuated with comic-book films. Helped get the Snyder Cut released, then wrote a book about it.