Steve Carell Transforms Himself Into A Killer In First Foxcatcher Image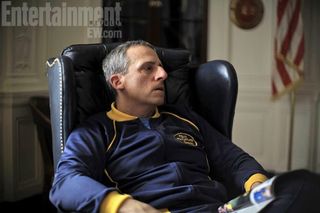 I've had my eye on Bennett Miller's Foxcatcher for ages, and for a lot of the obvious Oscar-baity reasons. It's the follow-up film from the director of Moneyball and Capote, and tells another true story with a tinge of murder, about how the heir to a massive fortune came to sponsor a wrestling team and eventually murder one of the players. And, as you might expect from the guy who made Moneyball, Foxcatcher has a fantastic cast in place to draw you in, including Channing Tatum and Mark Ruffalo as wrestling brothers Mark and David Schultz, and Steve Carell as the man who killed one of them.
Now, in this first official photo from Foxcatcher that premiered at Entertainment Weekly, we see Steve Carell in full-on future killer mode, and if he looks a little unfamiliar, that's the point. "We just had our first test [screening], and not everybody recognized Steve," Miller told EW. "He is aged [for the film], and his face is changed, and his physicality changed." And though Carell has tried his hands in dramatic roles in the past, in Hope Springs and Little Miss Sunshine, his turn as a schizophrenic murderer will deliberately go against his comedic persona: "John DuPont was a character who nobody thought was capable of doing something as horrible as he did. And I did not want to cast somebody who would feel dangerous in that way."
Foxcatcher-- which was the name of the wrestling facility that du Pont ran-- tells the bizarre story of what happened as du Pont's mental health declined while he was allowing as many as 150 athletes to train at his Foxcatcher Center. David Schultz was a former Olympian who considered du Pont a friend, even living on the property with his wife, and he attempted to help du Pont as his mental health declined-- only to be shot in du Pont's driveway, with several witnesses on hand to see it. Foxcatcher assembled its impressive cast last fall, and was picked up by Sony, who clearly were happy to stay in the Bennett Miller business following the success of Moneyball. Foxcatcher is strangely missing from many of the fall festivals, but it recently announced a December 20 release date-- which keeps it right in the thick of the awards season, where we expected it.
Revisit what happens when an actor transforms himself for a Bennett Miller film in this look back at Capote, and look for Foxcatcher in the middle of the holiday season rush on December 20.
Staff Writer at CinemaBlend
Your Daily Blend of Entertainment News
Thank you for signing up to CinemaBlend. You will receive a verification email shortly.
There was a problem. Please refresh the page and try again.