Francis Lawrence To Director World War II POW Story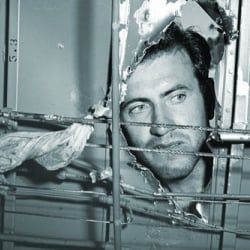 Laura Hillenbrand, who wrote the historical book Seabiscuit that was turned into the Oscar-nominated film, is back with another book about sepia-tinged American history, and it's already on its way to the big screen. According to Deadline Universal has picked up the rights to her book Unbroken: A World War II Story Of Survival, Resilience And Redemption, with director Francis Lawrence in talks to direct and Crazy Heart director Scott Cooper in mind to write the script. Crazily enough, Universal bought the life rights to the book's main figure, Louis Zamperini, all the way back in 1958, with Tony Curtis at one point wanting to play him immediately after shooting Spartacus. It's taken them over 50 years to get the story moving again.
Hillenbrand's book tells Zamperini's frankly amazing story from his competition at the 1936 Berlin Olympic games to his service in World War II, which landed him as a POW at a Japanese war camp and subject to specific torture from a Japanese officer nicknamed "The Bird," who targeted Zamperini for his Olympic fame. The former track star was given the opportunity to live in better quarters for reading anti=American propaganda on the radio but refused, and was tortured with everything from medical experiments to slave labor for years. Following his release from the camp he suffered nightmares until he became a born-again Christian, forgiving The Bird and attempting to meet and reconcile with him. Perhaps most amazingly, Zamperini is still alive, at 93, and carried the torch at the 1998 Nagano Olympics in Japan.
Lawrence just wrapped up directing Water for Elephants, another period story featuring an old-man narrator who survived remarkable things, though this story sounds a lot more epic and difficult to tell. He's not necessarily the perfect director for the job, even though I can't think of who is, but it's an interesting enough story that I'm just glad to see it going forward at all. Now to track down that book to learn more in the interminable wait for the movie to actually exist.
Your Daily Blend of Entertainment News
Staff Writer at CinemaBlend