Frankie Muniz Making His Comeback With New Year's Eve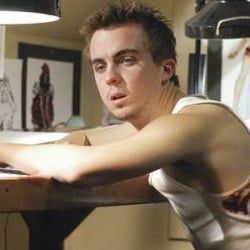 UPDATE! Looks like this was just a rumor. Muniz posted on his Twitter account "If I'm in the upcoming "New Year's Eve" movie, nobody told me! I'm not sure where news outlets got that info... But I know nothing about it!"
Original story follows:
Growing older can be tough on child actors-- success stories like Dakota Fanning and Jodie Foster are the outliers, leaving dozens and dozens of kids behind them to fade into obscurity. Stuck somewhere in-between success and failure is Frankie Muniz, the Malcolm in the Middle and Agent Cody Banks star who hasn't been arrested for cocaine possession or made a ton of awful direct-to-DVD movies, but isn't nearly as successful as he was before he hit puberty. He's definitely not bankable enough to headline his own major film right now, but joining an ensemble alongside a bunch of other famous names isn't a bad consolation prize.
So now we have Muniz signing on alongside the massive, monstrous cast of New Year's Eve, the ensemble romantic comedy that will be director Garry Marshall's follow-up to the horrifyingly successful Valentine's Day. What's Playing doesn't have information on what role he'll play, but I'm betting on some kind of romance complicated by the impending holiday-- because that's what the entire damn movie is going to be about. Honestly I'm kind of curious to even see what Muniz looks like these days-- the last time I saw him onscreen was as Buddy Holly in 2007's Walk Hard-- but not curious enough to want to see this. Unfortunately given my role here at Cinema Blend, I'll be seeing it anyway, so check back in December for my full report.
Staff Writer at CinemaBlend
Your Daily Blend of Entertainment News
Thank you for signing up to CinemaBlend. You will receive a verification email shortly.
There was a problem. Please refresh the page and try again.