A Free Copy Of Selma Is Being Shipped To Every High School In America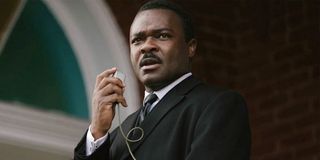 If you're running a high school in the U.S., you may want to hold off on that petty-cash purchase of the film Selma. It seems that task has been taken care of without solicitation, courtesy of Paramount. The company announced that they will send a DVD copy of the film to every public and private high school in the country.
Yes, it seems that, per Paramount's official announcement, Selma, which hits store shelves on DVD/Blu-ray on May 5, will also be coming to a strapped AV department class cart near you in the immediate future. Directed by Ava DuVernay, Selma was a biographically inspired film focusing on the struggles of Martin Luther King Jr. (David Oyelowo) at the height of the Civil Rights Movement as plans for a march on Selma, Alabama continued to be bombarded with recalcitrance from racist elements, reaping deadly consequences. It's a powerful, celebrated film, whose unsuccessful nomination at the Academy Awards earlier this year proved controversial.
Interestingly enough, unlike other films focusing on Civil Rights figures, this picture tends to avoid the typical tragedy devices, painting a picture of a reluctant figure destined for martyrdom. While that was King's fate in real life, that aspect doesn't manifest in the film. Rather, it comes across more as a historical snapshot at a specific moment in time, as America stood on the precipice of tumultuous tragedy in the South. In that sense, it lends itself well to showings in an educational setting, since its purpose is to illustrate the period in time in a contextually historical manner. Oyelowo's celebrated performance as Dr. King doesn't depict a statuesque ideal of a human being, but rather a good, but flawed figure who finds himself swept up in the broader scheme of an unfolding history.
The move seems to mirror what was done in January, when admission to the film was offered free of charge at a theater in Selma. That gesture pointed to the film's historical significance for the town in which it took place. Now, this latest move to proliferate to film amongst schools seems to be motivated in the same educational spirit. Yet, it might come across as overly self-reverential that a studio would actually distribute their film to schools, as if to insist their product is an intrinsically educational source of enrichment.
That perception could be supplemented by the reaction from the film's snubbing in several Oscar categories, which led to director Ava DuVernay making an indignant diatribe lamenting the Academy's decision, almost as if it was a tragedy in itself. Yet, despite the sour grapes perception, the film's subject matter is definitely a poignant part of recent American history, which can be seen as ever-timely considering what's been happening in Ferguson, New York, and, literally at this very moment, in Baltimore.
Ultimately, it comes down to this being a simple gesture of providing schools, some of which may be hurting for funds, a cinematic educational boost that will give teachers a little slack and give students a bit of a break. Besides, it might even set a fortuitous precedence, inciting Sony to send copies of Paul Blart: Mall Cop 2 to security firms around the country. That's a good thing…right?
Your Daily Blend of Entertainment News
Your Daily Blend of Entertainment News
Thank you for signing up to CinemaBlend. You will receive a verification email shortly.
There was a problem. Please refresh the page and try again.