Fresh Batch Of Photos From the Animated CJ7 Sequel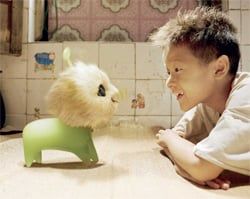 If you're unfamiliar with the work of writer/director Stephen Chow then you are doing yourself a disservice as a movie fan. Or maybe you're just lazy and don't want to read a few subtitles that are almost always gods damned hilarious. Either way, you'd be missing out on some of the best movies of our generation. Shaolin Soccer is one of the funniest movies of the last decade and you'd be hard pressed to have a better time watching a movie than when you tuck in to Kung Fu Hustle.
His latest directorial effort CJ7 was just about the cutest thing to come out of 2008, and is getting sequelized, but in a different format. The film is about an alien, dog-like creature who befriends a poor young boy, and adventure and enlightenment ensue. CG stepped in just to animate the creature in the first film, but the sequel will be entirely in traditional 2D animation. Chow had this little nugget of awesome to say about the use of 2D:
Respect. Chow is just producing, not directing, this time around, but his presence will surely be felt in the final product. Sina (Via Twitch) got their hands on what can only be described as a metric shit ton of images from the upcoming sequel and while they lack a bit of the cuteness the original had, they are still mostly adorable. Check a few out below or visit either of the above mentioned sites for full galleries.
Your Daily Blend of Entertainment News