Fresh Off Insulting Everyone, Sony's Co-Chairman Is Stepping Down, Of Course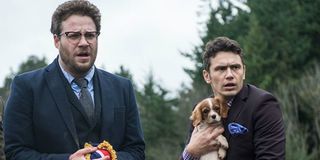 Amy Pascal has made herself one of the most controversial faces in Hollywood. Amid the infamous Sony email hacking scandal, the Sony Pictures Entertainment co-chairman was accused of racism, after some scandalous conversations leaked from her personal account. In addition, she was at the forefront of the Interview controversy and deciding how best to proceed after threats were made. Now, in a not entirely unexpected turn, Pascal is stepping down from her position.
Deadline had reported rumblings of an administrative shake-up in the early hours of Thursday morning. But by the time your average American was up and off to work, the news of Pascal's departure was confirmed. However, she is not entirely down for the count…not yet, anyway. While Doug Belgrad has risen to the status of Sony Pictures President, Pascal will be launching her own production venture that will be financed by Sony and focus on movies, TV and theater. Other than the general detail that she will be fully transitioning to her new position in May of this year, no further information is available at this time.
While her statement in a press release from Sony was pretty generic, making the normal to-do over the time she spent with the studio, this comes a little too close after she made headlines for her negative comments against the likes of President Obama and comedian Kevin Hart. If you need a refresher, some of the leaked emails unearthed conversations in which she joked that Obama only watched black-themed movies like 12 Years A Slave and Django Unchained. In addition, she was linked in an email chain unearthed by Gawker with a couple Sony executives in which Clint Culpepper wrote, "I'm not saying he's a whore, but he's a whore." This was reportedly after Hart had asked for additional funding to write a tweet promoting Think Like A Man Too.
Pascal has tried to do some damage control by meeting with Reverend Al Sharpton, and telling Deadline in an interview, "I'm mostly disappointed in myself." As this was right when all the comeuppance over The Interview was going down, her time was quickly swallowed up by this latest controversy. Many, including Obama, criticized Sony for pulling the release from theaters. The studio did state that they had plans to release the comedy about an assassination attempt on North Korean dictator Kim Jong-un in some format. But this decision was made too close to when they were being criticized that it was seen as backtracking, especially after a slew of theaters decided to screen the film.
Your Daily Blend of Entertainment News
Thank you for signing up to CinemaBlend. You will receive a verification email shortly.
There was a problem. Please refresh the page and try again.