New Friday The 13th Movie May Finally Explain Why The Hell Jason Is Alive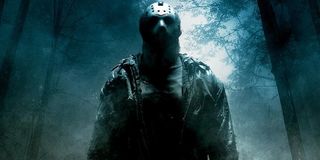 For 35 years now, the Friday the 13th horror movie franchise has gone through the perfunctory cycle of having masked killer Jason Voorhees hack and slash his way through a fresh group of sex-starved teens, getting himself killed, only to be inexplicably resurrected for another round. However, according to a producer for the upcoming next rendition of the franchise, we should expect a more in-depth explanation regarding WHAT Jason exactly is and WHY he seems to defy every corporeal and metaphysical rule that science has discerned about life so that he keeps coming back.
In an interview with Esquire, Brad Fuller, one of the partners of Michael Bay and Andrew Form in the Platinum Dunes production company, talked about a possible new approach to the venerable slasher series that will hopefully look to reinvent things not only on a deeper plot-related level, but also, budget-wise. As Fuller tells Esquire:
The idea of exploring the reasons behind Jason's perpetual Lazarus act is certainly an intriguing and original idea for a franchise that spawned 10 films before being rebooted in a 2009 effort. However, at this point, it seems to have become a necessary idea if the Friday the 13th franchise has any hopes of showing the same kind of durability as its murderous main character. The market has changed dramatically since that first Friday, and now studios just aren't willing to pour $20 million into polished slashers as they did just 5 years earlier with 2010's panned reboot of A Nightmare on Elm Street, or even the last Friday reboot in 2009... which was equally disdained by the general public and did lukewarm business.
After discussing how Platinum Dunes, previously only owning international rights, obtained the full rights to the Friday franchise as part of a deal to allow Warner Bros. to co-produce last year's Interstellar, Fuller explains that he knew that the property had to make an important evolution this time around. Certainly, the slasher genre has, itself, become a bloodied casualty of an ever-changing market of low-budget hits; a wave seemingly started by the "found footage" genre of horror of the Paranormal Activity films in late 2009, further expanding to the more insular horror of The Purge films.
The first Paranormal Activity, made on a laughable shoestring budget of $15,000 would yield over $193 million globally at the box office; probably one of the best examples of "return on investment" in history. Additionally telling is that its four sequels (with a fifth set for later this year), also showed very little slowdown, continuing to practically print money operating on average of a $5 million budget, still raking in profits without the extravagances of big name stars or high level production values. This concept has essentially spoiled any slasher film's hopes of carving out a bloated big-budget return.
Rather than resisting the turn of the tide, Fuller has teamed with PA producer Jason Blum and last year recruited V/H/S director David Bruckner. It all seems to signal that Platinum Dunes is looking for people who are going to know how to take this script, turn it into something compelling and primal. Apparently, all of this will be done within a budget somewhere in the range of a $3 million mark that probably wouldn't have covered the catering bill on the last film. However, Fuller seems to have found the right people for the job. Certainly, the idea of these folks bringing us a film focusing more on the reasons behind Jason's inconceivable constitution would bring a fascinating new angle to the table. It's an angle that, necessary to the parameters of this new version, costs very little overhead to provide.
Friday the 13th looks to lacerate smug, douchey teens with a sharp instrument of retroactive continuity at theaters on May 13, 2016.
Your Daily Blend of Entertainment News