The Strange, Incestuous Reason Why Paranormal Activity 5 Abandoned Halloween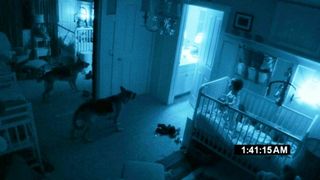 If you were hoping to be creeped out by Paranormal Activity's Toby the demon this Halloween, you're not going to be happy with this story. Paramount has moved the fifth installment in the popular found-footage fright franchise from it's October 24th release date, and pushed it all the way back until March of next year. The reason behind the move may surprise you.
Usually, when a movie gets pushed back from a release date, it's because the film is not finished, or requires reshoots, or the studio would just prefer not to open against a bigger film. None of those things apply here, according to THR. Paranormal Activity 5 (which now has the official title Paranormal Activity: The Ghost Dimension…"step into the light, Carol Anne!") is ready to go, and there's really no better opening window for a horror film than late October. So, what's the problem?
It appears the issue is that producer Jason Blum has another horror film opening in October, Universal's Ouija, which uses the popular spirit board as the basis for a supernatural frightfest. Ouija also opens on October 24th, and apparently Paramount decided that they'd move their movie so that Blum didn't have to compete against himself at the box office on that weekend. If you didn't already think the film biz was an incestuous industry, this should help confirm it.
What's interesting about this is that Paranormal Activity: The Ghost Dimension is the film that ended up moving. Paranormal Activity became the alpha October horror franchise a few years back, after ending Saw's reign of terror in the spookiest month of the year. It's the big bad bully on the studio horror film block, yet it's stepping aside for an upstart feature that wants to be the spiritual successor to Tawny Kitaen's Witchboard. That's crazy.
Maybe Paramount is on to something, though. The last entry in the Paranormal Activity series, the spinoff The Marked Ones, actually opened in January and did quite well. January is a little different than March, in that it's become a pretty big month for horror movies, but The Ghost Dimension should be fine with its new window. To help make room for it on the calendar, Paramount is shifting Scouts vs. Zombies from March 13th to February 20th. That film has a tie to Paranormal Activity as well, seeing as it's directed by Christopher Landon, who's been a writer, producer, and director for the franchise. Everything is intertwined…
Your Daily Blend of Entertainment News
Thank you for signing up to CinemaBlend. You will receive a verification email shortly.
There was a problem. Please refresh the page and try again.