Frozen's Epic Box Office Winning Streak In Japan Just Ended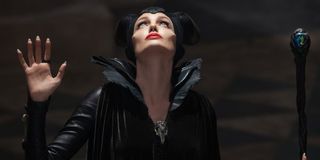 It's proving another banner year for female-fronted films, thanks to hits like Frozen, The Fault In Our Stars and Maleficent. Notably two of these three features came from Disney, and now they are facing off in Japan.
THR reports Frozen sat at the top of the Japanese box office for the 16 weeks since it was released there. But this past weekend saw the debut of Maleficent in Japan, and the Angelina Jolie vehicle booted Elsa and Anna from the #1 spot down to #3. Wedging its way in between the two is the Tom Cruise-fronted sci-fi thriller Edge of Tomorrow, which opened with a respectable $2.54 million to Maleficent's $6.8 million.
Frozen opened in the US last Thanksgiving, where it earned a record for highest Thanksgiving holiday opening right out the gate. Since then, the Disney musical about two sisters who learn that true love need not be romantic went on to score $1.26 billion and become the highest grossing film of 2013. (Yes, its grosses are still incoming, but the film did make its world premiere last year.) In Japan, it scored a new record with its 16-week streak at the top of their box office. To date, Frozen has earned $241 million in this market, meaning with 10 days to go before it hits Blu-ray and VOD there, it could well cross the quarter of a billion dollar mark in Japan.
Meanwhile Maleficent is proving another massive hit for Disney. An origin story about the villainess of the 1959 animated musical Sleeping Beauty, Maleficent offered the requisite gritty backstory, and while critics scorned the live-action re-imagining, audiences have turned out in force.
The $180 million movie has made $213 million in the U.S. in the six weeks since its debut, and another $416 mil overseas. This comes to a grand total of $630 mil worldwide that has Maleficent on contention for the highest grossing film of 2014. At present, this pic sits at the #4 spot worldwide and domestic. It's the only non-superhero movie to cross the $600 million mark this year, and already Maleficent is the highest grossing live-action film Angelina Jolie has ever done. It's her biggest opening in Japan too.
Japan's numbers also signal good news for Edge of Tomorrow, a movie that despite being adored by critics has been painfully ignored by American audiences. The $178 million thriller stars Tom Cruise as a reluctant soldier stuck in a time loop that forces him to become a war hero. To date, it's only earned $90 million domestically, but overseas numbers of $248 mil are helping pull this summer blockbuster into the win column.
Notably, one of the obstacles of Edge of Tomorrow was jettisoned for its Japanese release. There, instead of the title that has many movie fans scratching their head, distributors stuck with the original title All You Need Is Kill, which has better brand recognition there, as the movie is based on the Japanese novella of the same name by Hiroshi Sakurazaka. Edge of Tomorrow is expected to continue to thrive in Japan, between the popularity of its source material, and the continued appreciation of Tom Cruise in that nation.
Staff writer at CinemaBlend.
Your Daily Blend of Entertainment News
Thank you for signing up to CinemaBlend. You will receive a verification email shortly.
There was a problem. Please refresh the page and try again.