The Funniest Scene In Bridesmaids Wasn't Even In The Script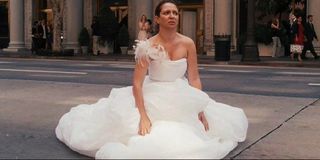 Bridesmaids was pretty much adored by everyone who saw it, which is probably due to the fact that it's sweet, warm, and hilarious all at the same time. But there's one disturbing but still laugh out loud funny scene that helped to set the comedy apart from its peers, which saw the lasses struggling with a sudden bout of food poisoning. And it's now been revealed that this particular sequence actually wasn't originally planned in the script for the feature.
Robert Yeoman recently spoke at length about his eclectic career in an interview with with The Huffington Post, celebrating his recent Oscar nomination for The Grand Budapest Hotel, and it was during this chat that he talked a bit about his experience filming Bridesmaids and exactly what with down with the aforementioned scene. According to the filmmaker, the pages for the food poisoning scene were only brought on-board during production, and they weren't actually part of the movie before filming began. For those of you struggling to remember the scene in question (or maybe you were so scarred by it you've erased it from your memory) you can check it out in all of its furious glory below.
Who knew that vomit and diarrhea could be so funny? Well, Kristen Wiig, Paul Feig and Annie Mumolo, obviously. Robert Yeoman explained that there were script adjustments everyday during production on Bridesmaids, and that this style of shooting was actively encouraged by producer Judd Apatow. This was quite a different kind of experience than the cinematographer was really used to, but he adjusted to the moment and wound up really just trusting the process and the talented people who were responsible making the big decisions behind the film. Obviously this turned out to be the right move.
Yeoman admitted that at the time he was "a little horrified by the whole thing" and didn't recognize that it would develop into the comedy's stand-out scene. In fact, his main worry was how he would set it up. He told the site, "It's not my style of humor, really, and I just wasn't sure how this was all going to be pulled off." However, director Paul Feig took the reigns, and Yeoman just shot it in the way that his collaborator devised. And it's probably a good job he did too, because this scene sums up what has made Bridesmaids so universally adored. It's revolting, but still truly human, while each of the performers are given free reign and an opportunity to showcase their mirth-making skills.
Unfortunately, Yeoman wound up not being incredibly impressed with how the sequence turned out. He admitted during the interview that even though "a lot of people really love that scene" it isn't something that he is personally "a big fan of." Everyone's a critic.
Your Daily Blend of Entertainment News