Furious 7 Deleted Scene: Vin Diesel Defends His Family In A Rare Quiet Moment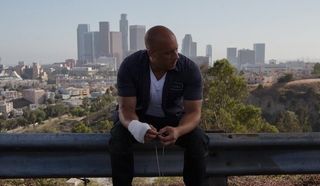 If you're one of the millions who have watched the Fast & Furious movies over the years, you're well aware that for Vin Diesel's character, Dominic Toretto, nothing is more important than the ragtag group of friends he calls his "family." In a new deleted scene from the latest chapter, Furious 7, Dom tries to communicate just what that means to franchise newcomer Nathalie Emmanuel, in his true gruff, papa bear fashion.
This deleted scene from MTV is something of an anomaly for balls-to-the-wall Furious 7, as it is a rather small, quiet moment. In relatively short order, Letty (Michelle Rodriguez) will throw down with MMA champ Ronda Rousey, and Dom and BFF Brian O'Conner (Paul Walker) will just a ludicrously expensive automobile from building to building to building. However, in this scene, it's just two people talking.
In the grand scheme of things, you can see why this was excised for pacing reasons and to save space in an already 137-minute movie, but it's a nice moment on its own. Diesel is intense, and he really drives home Dom's fierce devotion to his family, that he's not going to let anything happen to them or anyone put them at risk without a damn good reason, and that he doesn't trust this newjack, at not until she proves herself as a worthy addition to the clan.
Beyond that, this scene also provides newcomer Emmanuel, best known for her role as Emilia Clarke's right hand lady Missandei on HBO's Game of Thrones, with some more screen time. Her hacker character, Ramsey, who is responsible for creating a valuable piece of technology that escapes her control, which is the impetus for the whole Furious 7 story, doesn't really have much to do in the final film. It's kind of a waste, but this gives her something to work with, as she stands up for herself and pushes back at Dom as much as he pushes her. A scene like this could have given Ramsey some more emotional heft.
While she doesn't know for certain if she'll be back for Furious 8, Nathalie Emmanuel does sound like she's more than game to ride or die with Dom and the crew another time. She said, "I really hope that happens," and went on to praise the familial bond the cast shares off screen as well as on.
The billion-dollar-plus earning Furious 7 is currently available digitally, and hits Blu-ray next Tuesday, September 15.
Your Daily Blend of Entertainment News
Thank you for signing up to CinemaBlend. You will receive a verification email shortly.
There was a problem. Please refresh the page and try again.