Furious 7 May Be Out Of Theaters, But It's Still Shattering Records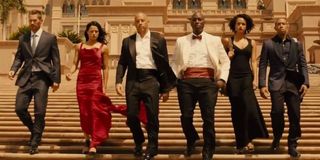 After its April 15 release, Furious 7 killed it at the box office. Weekend after weekend the numbers only grew to new extremes, breaking records and taking names. Now, reports are showing even higher numbers coming in for the franchise, as the James Wan-directed action film has now broken a record for the highest-selling home entertainment live-action film.
According to The Hollywood Reporter, the Vin Diesel and Paul Walker led car chase has been continuing its record-breaking money-making streak with its Blu-ray and DVD release. Furious 7 now holds the title for the highest-selling home entertainment live-action film launched this year after selling roughly 2.5 million copies on Blu-ray and DVD just in its first week of release. On top of the installation standing as the Fast & Furious franchise's biggest selling release, the film is now on pace to become Universal's highest grossing live-action home entertainment release to date, as well.
Universal is obviously ecstatic about its film's success, claiming the extraordinary achievement to be a "true testament to the enduring appeal of The Fast and the Furious films". And they certainly aren't wrong. Furious 7 has seen incredible success. At the box office the film took in $1.5 billion worldwide, making it the second highest grossing film of 2015, only beat out by another Universal blockbuster picture, Jurassic World. Chris Pratt and all his dino friends won't be hitting the home entertainment market until October 20, so there's no telling quite yet whether Furious 7 can hold its newfound title, but they sure will get to keep it for at least another month.
While many of the records reference this year, it is important to note how impressive of a year it has been at the box office. Jurassic World may top Furious 7 at the worldwide box office, but Jurassic World sits 3rd in all-time worldwide box office gross, only behind Avatar and Titantic, according to Box Office Mojo. Furious 7 on the other hand, sits 5th at the all-time box office, with Marvel's The Avengers beating it for the 4th position ever so slightly.
Needless to say, when you have Furious 7 in the same category as The Avengers, it comes as quite the shock. Furious 7 proved just how powerful a franchise film can be, even if it is a seventh installation. Overtaking the big Marvel movie of the summer, Avengers: Age of Ultron left jaws-dropped. We'll see where it stands against Star Wars: The Force Awakens opening in June, but again, just the mere conversation of these films in the same place is seriously impressive for the Fast & Furious franchise.
Your Daily Blend of Entertainment News
Your Daily Blend of Entertainment News
Thank you for signing up to CinemaBlend. You will receive a verification email shortly.
There was a problem. Please refresh the page and try again.