Furious 8 Wants To Blow Up A Different European Nation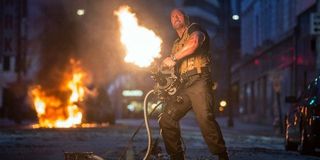 Fast 8 has already made it known that they will be filming in New York City, while confirming their hopes for shooting in Cuba as well. But, as it has been clear from the previous instalments to the franchise, these films like to spread their wings by venturing into a variety of new territories. Fast 8 will be no different: it's now been confirmed that Fast 8 will shoot in Iceland too, where there are plans to create the largest explosion in the country's history.
This story first emerged courtesy of the Icelandic publication Visir, via Comic Book, who have revealed that the Fast & Furious franchise will be filming in the town of Akranes, which is located in the west Iceland.
In fact, Fast 8's scouts have already picked out some locations from the region that would be perfect, with reports suggesting that the town's harbor and "Cement Fields" will pop up in the blockbuster.
Are the town's inhabitants excited at the prospect of Vin Diesel, Michelle Rodriguez, Dwayne 'The Rock' Johnson, Tyrese Gibson, and Ludacris venturing over and then wreaking havoc? Well, according to Akranes' mayor Regina Asvaldsdottir, who I assume speaks on behalf of the entire community, they can't wait, and are hugely excited for production to commence.
Plans and provisions are already being made so that the Icelandic town's stores and services are not overly affected by the shoot. But that's going to be rather hard since it's also been reported that Fast 8 is planning on creating Icelandic history while they're in the country. And it's the sort of history that the Fast & Furious franchise loves being involved with, as they're hoping to pull off the largest explosion to ever take place in Iceland.
It's not yet known if that means Fast 8 are planning on eclipsing the volcanic eruption of Eyjafjallajokull, which, back in 2010, caused major disruption to all of European air travel because of the enormous plum of volcanic ash that populated the skies. Let's hope so.
In fact, I'd be disappointed if Fast 8 didn't include an outrageous and elaborate stunt that included the volcano. Obviously it would have to involve Dom and his gang driving straight over the top of the volcano, which would be on the cusp of erupting, before they then sped away from the onrushing lava.
Production on Fast 8 is due to begin in the next few months. Shortly after Furious 7 became the sixth-highest-grossing film of all time thanks to its $1.51 billion gross, plans began on the newest blockbuster. Then, over the course of 2015, Vin Diesel first confirmed that shooting would take place in New York, before it was announced that Straight Outta Compton's F. Gary Gray would direct.
Universal is still hoping to get permission to shoot part of the eighth instalment in Cuba too, which, along with its New York and Iceland locations, will give Fast 8 an eclectic exoticness, that we'll all be able to fawn over when it's finally released on April 14, 2017.
Your Daily Blend of Entertainment News
Thank you for signing up to CinemaBlend. You will receive a verification email shortly.
There was a problem. Please refresh the page and try again.