G.I. Joe 3 Happening After G.I. Joe: Retaliation's Big Box Office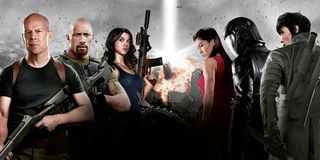 In 2009, G.I. Joe: Rise of the Cobra brought in $302 million worldwide, spurring Paramount to give the Joes a sequel. But widespread critical scorn urged the studio to rework their concept, discarding a bunch of blah characters from the first movie, and bringing in some shiny new ones, plus bigger stars for G.I. Joe: Retaliation. This strategy is already paying off. In Eric's review, he celebrated the movie's acknowledgement that it's a senseless but undeniably fun spectacle. In my GIF review, I geeked out, reveling in the feature's insane action sequences and campy sense of humor.
But beyond winning over critics—who admittedly expected little of this sequel—G.I. Joe: Retaliation won the box office race this weekend. The sensational sequel earned $51 million domestically, which while $3 mil less than Rise of the Cobra earned on its opening weekend was still enough to put it at #1. But that's not all! Retaliation earned box office love worldwide, and so already boasts a global box office total of $132 million, which is enough for Paramount to promise G.I. Joe 3 will happen.
It looks like Sean's right: The Rock is a franchise savior.
Where could a third film go? (Spoilers ahead) Well, at the end of G.I. Joe: Retaliation Cobra Commander had scurried off to parts unknown, but many of his colleagues were either dead or considering switching sides. It's likely Dwayne Johnson will be asked to reprise his role as Roadblock, leading the Joes into their next battle against Cobra. However, I'm pulling for a sequel that puts more focus on Byung-hun Lee's Storm Shadow. He shouldered his arc in Retaliation with a steely bravado that would play well against Johnson's showy charisma.
Still, it's a shame some seriously fun villains won't be able to return because of serious cases of death by explosion. But it will be interesting to see where the filmmakers go from here and who else they might pull out of our nostalgia toy chest. Tell us who you want to see in G.I. Joe 3 in comments.
Your Daily Blend of Entertainment News
Staff writer at CinemaBlend.
Your Daily Blend of Entertainment News
Thank you for signing up to CinemaBlend. You will receive a verification email shortly.
There was a problem. Please refresh the page and try again.