G.I. Joe 3 Will Likely Involve A Huge Role For This Character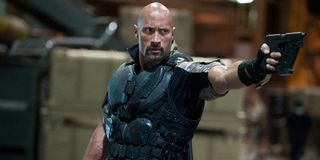 Fans of the G.I. Joe films are probably still left wondering if a third entry into the lucrative toy film franchise is on the horizon. Well, after a bit of a dry period on news, it appears that this wayward ship of a third film may now be back on course with a new director. This could also mean a huge role for a certain member of the Joe team.
After a game of musical chairs which saw the exit of last entry head Jon M. Chu for Jem and the Holograms, and failed negotiations with Martin Campbell, it looks like D.J. Caruso is set to take the helm of the Hasbro toy franchise film. Caruso, director of the 2004 Angelina Jolie vehicle Taking Lives, was also responsible for Shia LaBeouf's early hits Disturbia and Eagle Eye, the 2011 young adult "hot teens with superpowers" genre film, I Am Number Four and the upcoming Selling Time with Will Smith. While he will certainly bring in a great deal of dramatic experience to the project, it does leave one to question if Caruso's selection might be an indicator of the film's focus. The Joe films, while focusing on a few main heroes, were always ensemble pieces. Even when Jon Chu stepped into the second film, his experience with ensemble casts in the Step Up movies was somewhat applicable. Could we be seeing a shift in this third entry from an ensemble to solo focus? We think yes, and here's why.
While next to nothing is known about the project, we might be able to safely speculate something about its focus based on the only substantive fact that is known: In what has been a revolving door of franchise stars, Dwayne "The Rock" Johnson is already attached to this third film. Could this mean that we'll see a great deal more of The Rock… err, G.I. Joe team member Roadblock laying the smack down on Cobra candy asses?
As we have seen in the last entry, G.I. Joe: Retaliation, Dwayne Johnson kind of swept into the franchise in which Channing Tatum's Duke was the clear-cut protagonist in 2009's G.I. Joe: The Rise of Cobra and essentially told him to "know your role" and relegated Duke to being Roadblock's best buddy. Essentially, Duke went from starting the franchise as Maverick to ending it as Goose. And I'm sure Snake Eyes would have loved to fill the role of Iceman if that poor bastard could still talk. The baton was passed and Roadblock became "the man" when it comes to the G.I. Joe team. Which was contrary to the canon of the classic 1980's A Real American Hero cartoons and comic books.
Thus, the G.I. Joe film franchise, for all intents and purposes, is now a Dwayne Johnson franchise. This could likely be the only way a third Joe film gets greenlit. While the film franchise has been an all-around solid performer, with Retaliation even outperforming its predecessor by over $70 million, a lot of that was hung on the stardom of Johnson, who despite the recent miss with Hercules, is still one of the most reliably bankable box-office stars out there. As long as the optics are enough to convince Hasbro toys that they can sell a great deal of action figures, knick-knacks and Chotchkies with The Rock's face on them, everyone (outside of old-school purists) will be happy.
Your Daily Blend of Entertainment News
Your Daily Blend of Entertainment News
Thank you for signing up to CinemaBlend. You will receive a verification email shortly.
There was a problem. Please refresh the page and try again.