Game Of Thrones' Natalie Dormer Cast In Ridley Scott's The Counselor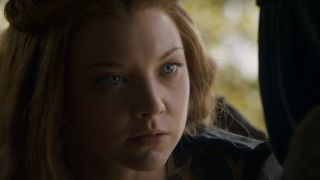 (Image credit: HBO)
The talent behind The Counselor is not just staggering but impressively growing. Written for the screen by Cormac McCarthy, the Pulitzer Prize winner author of "The Road" and "No Country For Old Men," the violent drug drama is in development under the direction of Ridley Scott and already features an all-star and critically acclaimed cast that includes Michael Fassbender, Brad Pitt, Penelope Cruz, Javier Bardem and Cameron Diaz.
Just yesterday, John Leguizamo joined the project and now, according to THR, Natalie Dormer has also landed a role in The Counselor. Dormer is probably best known for her role as Anne Boleyn on Showtime's The Tudors, but she was fantastic in her first year as Margaery Tyrell in the second season of Game of Thrones and is great addition to any ensemble. Dormer also appeared in a few features last year including a small but memorable part kissing Chris Evans in Captain America: The First Avenger.
There are no details about her role in the film except that she's been enlisted in support of the other big names. The film is set along the Mexican border, like so much of McCarthy's work (he has a series dubbed "The Border Trilogy" which includes "All the Pretty Horses," "The Crossing" and "Cities of the Plain" not to mention the aforementioned, "No Country for Old Men") and follows a decent but down and out attorney who turns to the drug trade for funds.
Fassbender stars as the attorney while Bardem's rich buddy and Pitt's shady character round out their small cocaine business. Of course, things spiral out of control in what the article describes as "a dialogue-heavy, violent and racy script." You had me at hello.
Your Daily Blend of Entertainment News