Garrett Hedlund Wanted To Be In Angelina Jolie's Movie So Badly He Wouldn't Take No For An Answer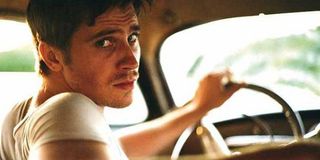 Garrett Hedlund is living proof that, no matter how blank and dumb a given hunky actor may seem at first, he might deserve a second shot (call it the Channing Tatum Wait-and-See). Hedlund went from nobody to plastered all over billboards in Times Square when he was cast as motorcycle-riding Sam Flynn in Tron: Legacy. Even for a movie that was mostly about its special effects Hedlund was a black hole of charisma, and I was totally ready to write him off until he showed up and surprised me in On The Road, playing the incredibly charismatic Dean Moriarty opposite Sam Riley's admiring Sal Paradise. Hedlund has more to show us than his lightcycle-riding skills, and he's aiming to show us soon.
Exactly how he'll show us is a little unclear, but there's potential abound in Unbroken, which Variety reports has added Hedlund to its cast. Angelina Jolie is directing the adaptation of Laura Hillenbrand's book, recounting the true story of former Olympian and World War II POW Lou Zamperini, who has far above and beyond your average story of wartime survival. Hedlund had apparently been aggressively pursuing the role of Zamperini before Jack O'Connell snagged it, but was so interested in the project that he's taken on a smaller role. Variety doesn't reveal what that role might be, and it's a little tough to guess-- Zamperini spent 47 days surviving alone in the Pacific Ocean, then was brought to a Japanese prison camp for two years. Presumably Hedlund could play a fellow POW, but in a story as wide-reaching and fascinating as Zamperini's, there are a lot of possibilities.
Unbroken will be Angelina Jolie's second directorial effort after In The Land of Blood and Honey, a Bosnian war-era love story that proves Jolie will have no problem with the harrowing details behind Unbroken. She's not only working with source material from Hillenbrand, who wrote Seabiscuit, but with a script most recently drafted by Joel and Ethan Coen (and Richard LaGravenese and William Nicholson before them). You could cast Zac Efron and the kid from Jerry Maguire in the lead roles for this film and we'd still be intrigued.
Speaking of the Coen Brothers, Hedlund's next screen appearance will be in their period drama Inside Llewyn Davis, out in December, and at some point he may get sucked back into the game grid for Tron 2 or even Tron 3. Given how much good work he's done since escaping from that black jumpsuit, though, maybe we should hope he keeps that one on the back burner for, well, forever.
Your Daily Blend of Entertainment News
Staff Writer at CinemaBlend