George Clooney Has Strong Opinions About The Academy's Recent History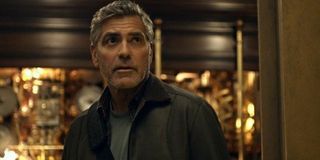 A bigger talking point than the actual nominations for next month's Oscars has been the rather shocking lack of diversity among the nominees themselves. People far and wide have already voiced their dismay, and now George Clooney has joined the discussion, insisting that the Academy is actually going backwards with their thinking, rather than forwards.
Over the last two years, all 40 people nominated for acting roles at the Academy Awards, have been white, and George Clooney is completely dumbfounded by the lack of recognition from the Academy for ethnic actors. However, he believes that the problem is only a reflection of the institutionalized racism that is still rife in Hollywood. Clooney explained to Variety:
There's no denying that George Clooney has a point with just how far the Academy has fallen. Back in 2004, Jamie Foxx won the Best Actor Oscar for his performance as Ray Charles in Ray, while Don Cheadle was nominated for Hotel Rwanda. In 2006, Forest Whitaker won the same award for The Last King Of Scotland, and Will Smith was nominated for Pursuit of Happyness. In between, Terrence Howard was nominated for Best Actor for Hustle & Flow too. Since then Chiwetel Ejiofor (12 Years A Slave), Denzel Washington (Flight), and Morgan Freeman (Invictus) are the only black actors who have been nominated.
Not to mention, in the same year that Jamie Foxx won Best Actor, he was also nominated his work in Collateral in the Best Supporting Actor category. Also up for the trophy in that same category was Morgan Freeman's performance in Million Dollar Baby, which won him the award in that field. Since then, Djimon Hounsou (Blood Diamond) and Barkhad Abdi (Captain Phillips) are the only black actors to have been nominated in this category since.
In terms of Best Actress nominations, Oscar has been just as few and far between in the last 10 years for Black actresses. In fact, only Quvenzhane Wallis (Beasts Of The Southern Wild), Viola Davis (The Help), and Gabourey Sidibe (Precious) have been nominated for Best Actress honors, but none won. However, there has been some progress in the Best Supporting Actress category though, as 12 Years A Slave's Lupita Nyong'o, The Help's Octavia Spencer, Precious' Mo'Nique, and Dreamgirls' Jennifer Hudson have each won; while Hotel Rwanda's Sophie Okenedo, American Gangster's Ruby Dee, Doubt's Viola Davis, and The Curious Case Of Benjamin Button's Taraji P. Henson were also recognized with nominations of their own.
Even this iota of progress now means nothing, since the Academy hasn't kept up with the standards of inclusion they once excelled at. Cheryl Boone Issacs, the head of the Academy, has vowed to correct these repeated oversights though, insisting that a review of their membership recruitment will be conducted in the next few weeks to add diversity to the nominations in the future. Which is much needed considering that, according to the BBC, nearly 94% of Oscar voters are Caucasian, while 77% are male.
Perhaps the greatest shame is that it took this level of embarrassment on the behalf of The Academy of Motion Picture Arts and Sciences for it to conduct such oversights, but at least something's being done about it now. We'll see what the future brings, but in the meantime you can catch the 88th Academy Awards, hosted by Chris Rock, on February 28th.
Your Daily Blend of Entertainment News
Thank you for signing up to CinemaBlend. You will receive a verification email shortly.
There was a problem. Please refresh the page and try again.