George Clooney, Paul Greengrass Teaming For Untitled Heist Thriller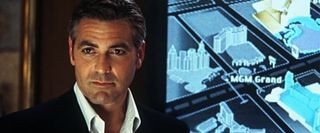 We'd basically see anything the team behind Argo decided to do next. But when you tell us the feature might be an airtight heist thriller helmed by Paul Greengrass, well, we'd basically want that movie in theaters this weekend.
It's going to take longer than that, though Variety reports that George Clooney and Grant Heslov's production shingle Smoke House is moving ahead with Argo screenwriter Chris Terrio on an as-yet-untitled crime thriller that has attracted Greengrass's attention. Details are being kept under wraps, though the trade has learned that the story takes place in the world of New York's crime syndicates. Greengrass is circling the director gig, while Clooney is attached to star.
Because we know little about the plot, we have to focus on the collaborators. Terrio's a hot property at the moment thanks to his layered Argo screenplay. As Variety notes, he recently wrapped his first draft for the U.S. remake of the French hit Tell No One. He's also hard at work writing A Murder Foretold for Paramount.
And while we're extremely excited by the prospect of Clooney working with Greengrass -- whose credits include two Bourne movies and the masterful United 93 -- we have to wonder when the Oscar-winner will have time in his schedule to act in this heist picture. Yes, Clooney is done shooting Alfonso Cuaron's Gravity with Sandra Bullock. But he has been linked to Brad Bird's sci-fi drama 1952, and also plans to direct a WWII heist thriller of his own, The Monuments Men for Sony. Daniel Craig, Bill Murray and more already have been cast in that film, so it's not like it can go on the backburner. Terrio likely has time to hammer out this heist picture, but if it's half as good as Argo, it will be worth the wait.
Movie junkie. Infatuated with comic-book films. ReelBlend cohost. Resident dad. Extroverted introvert. Wants to see the Snyder Cut. Managing Director at CinemaBlend.
Your Daily Blend of Entertainment News
Thank you for signing up to CinemaBlend. You will receive a verification email shortly.
There was a problem. Please refresh the page and try again.