George Lucas Donating Most Of Disney's $4 Billion To Charity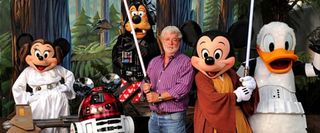 George Lucas, already an insanely wealthy man, seemed to get much richer on Tuesday, with Disney acquiring Lucasfilm-- of which Lucas was previously the sole owner-- for a jaw-dropping $4 billion. That's actually a reasonable price to pay when you consider what they're getting, but it's still an enormous paycheck, and maybe a slightly ridiculous one for a man who has absolutely no need for the money.
But say what you will about where Lucas took the Star Wars franchise with the prequels: the man who gave us Jar Jar Binks is also a mensch. According to The Hollywood Reporter, the vast majority of the money Lucas made from the Disney sale will go to charity, specifically his George Lucas Educational Foundation. Lucas said in a statement:
In 2010 Luca also signed the Bill and Melinda Gates-led Giving Pledge, in which he vowed-- alongside other moguls like Michael Bloomberg, Barry Diller and Mark Zuckerberg-- to give the majority of his wealth to charity. In the statement he made then, which you can read in full here, he talked about the importance of storytellers in education, and said "It's scary to think of our education system as little better than an assembly line with producing diplomas as its only goal." So it's not just that Lucas will be donating money to schools-- he's trying to change the ways schools are structured and what students learn, an immense goal that really only someone with so much cash can accomplish.
So with the Disney-Lucasfilm deal now promising to produce more Star Wars movies and a wealth of other stories, it's not just the fictional characters of the galaxy far, far away who will benefit-- it's a whole lot of kids. Nicely done, George Lucas.
Staff Writer at CinemaBlend
Your Daily Blend of Entertainment News
Thank you for signing up to CinemaBlend. You will receive a verification email shortly.
There was a problem. Please refresh the page and try again.